The Tantus Echo Handle is a manifold experience that begs lots of explanation on my part.  I've been putting off this review for several reasons.  One, because I've been really enjoying my repeated trials of the toy and have found new things I like about it during each use, two, because the overall process of acquiring this toy was a bit of a bear and I wanted to find a useful way to incorporate it into my blog.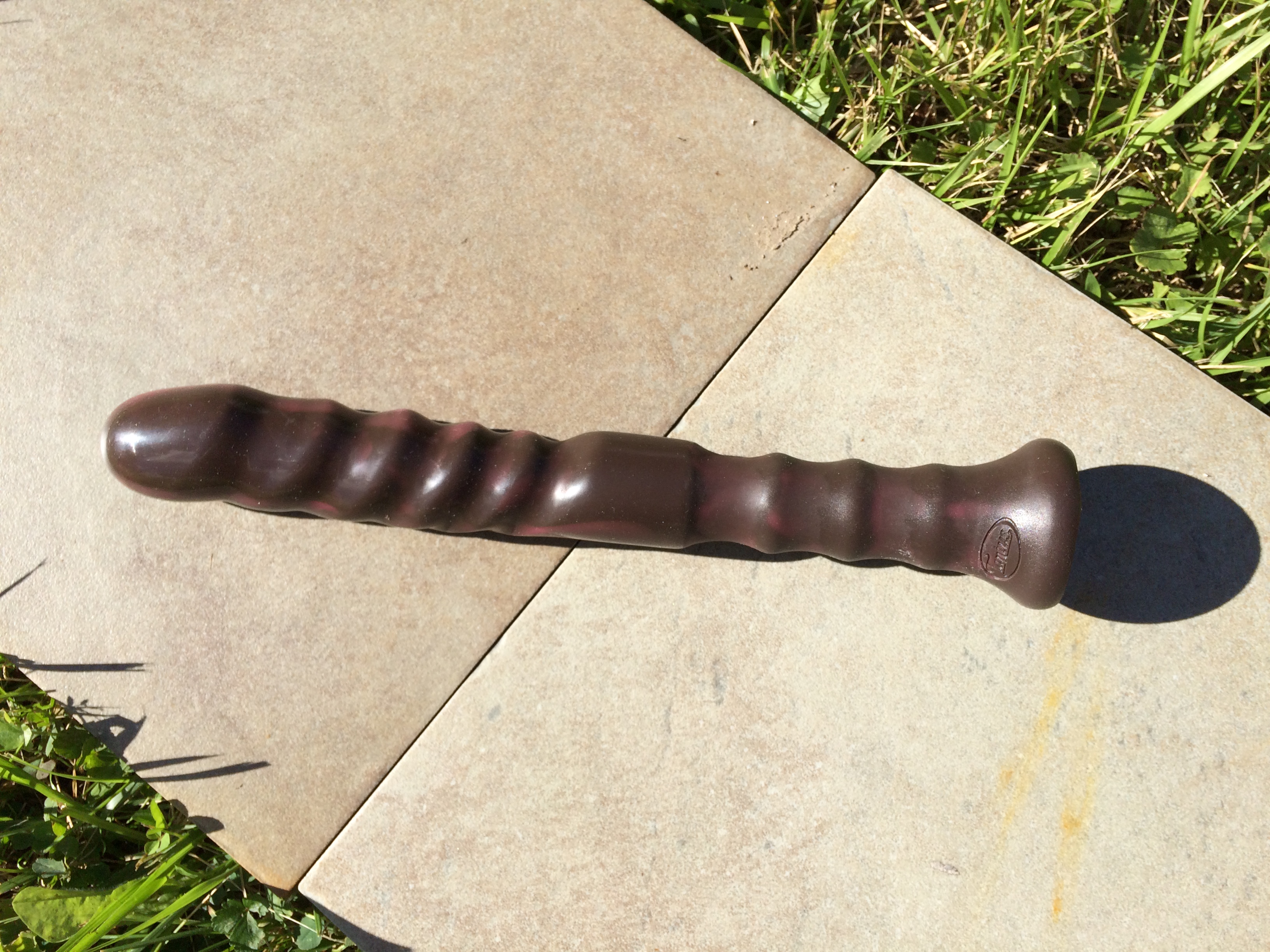 I bought the Echo Handle as a grab bag item which was part of an additional Tantus promotion on their website.  Word to the wise: follow Tantus's social media, because they very frequently have awesome sales going on.  The "grab bag" option, though, is an ongoing deal Tantus offers where they use whatever leftover silicone from previous toy pours to make toys in random colors.  This provides less picky customers with an affordable product.  I thought I was one of those "less picky" customers.  I thought there was no possible color that a random color option could go wrong.  Clear, brown, red…a swirly mess resembling a tutti frutti jellybean, whatever, I thought I would be happy with it.  Especially when I  had seen the Echo Handle grab bag item my fellow Business of Blogging classmate received as part of our class review assignment.  It seemed as though several reviewers had gotten awesome color combinations in their grab bags (just Google "Echo Handle" and "grab bag" and you'll see what I mean), so I was super hopeful for something awesome.
What came in the mail was a paler version of the slime from Ghostbusters 2, almost fleshy but too translucent to convince myself it was a realistic dil like my other Tantus favorites, the Mikey O2 and the Vamp.  I was already a bit sour after Tantus didn't honor my promotional discount I tried to use via Dangerous Lilly's website after I hastily clicked "submit" on my order, despite their not shipping or fulfilling the order until a full two weeks later (and adding insult to injury, making the order ship later than Tantus's usual delivery dates).   I didn't get to take my Echo Handle on vacation, and when I got home, I returned to see a really basic colored dildo with imperfections galore: excess silicone that needed cutting at the base of the handle, weird smudges that looked like fingerprints where shine should have been, and the grossest part was a fleck of black mystery material embedded in the silicone itself.   After stewing over it on social media, I decided to be a bit more mature and give Tantus the credit they are due as a reputable and responsive company and contacted them regarding my disappointment with the order.  I figured that even if I didn't get a refund, an exchange, or anything of the like, it would open up some sort of dialogue with the company regarding this outlier in grab bag quality.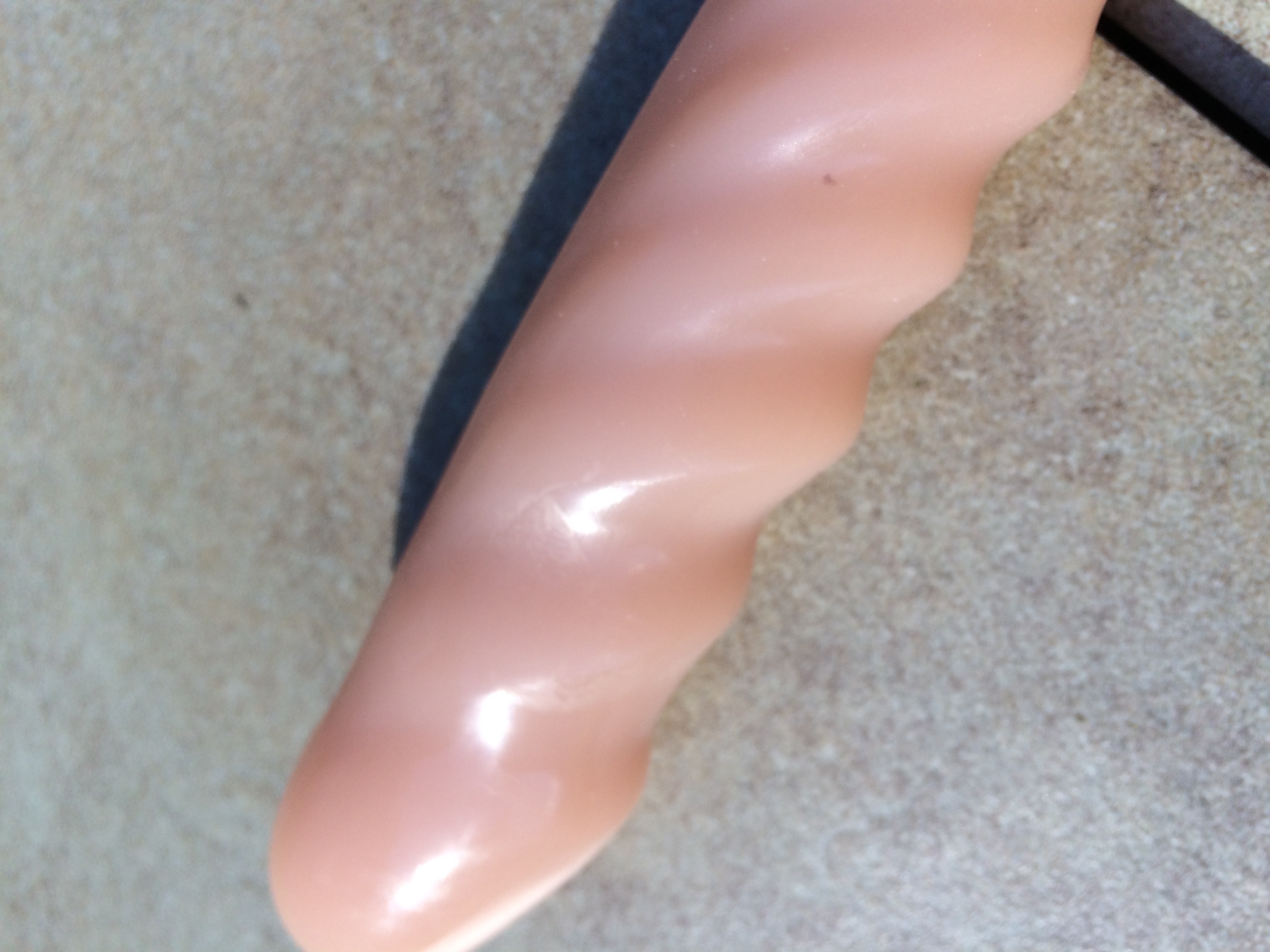 Tantus's customer service response was exemplary. With true professionalism and empathy, Kimberly (their Customer Service Representative) apologized for each complaint I offered (which I did so in much more constructive terms than the ranty tantrums provided above), and two weeks later I had a new Echo Handle shipped to me free of charge.  Kimberly promised Tantus would ensure they would use colors marbled from a vibrant pour, and I got a rich dark chocolate brown fading into black mixed with a pinkish red.  The thing looks like a cross between a truffle and some sort of wooden staff.  It is absolutely gorgeous and truly unique.  I've seen a lot of pinks and blues and greens and yellows, but never a color combination as nuanced as this.  Tantus really seemed to have put a lot of thought into this pour.  And for someone like me who is so obsessed with the aesthetics of sex toys, particularly when the Echo Handle is already such a visually unique item, the new colors I received complimented the shape of it perfectly.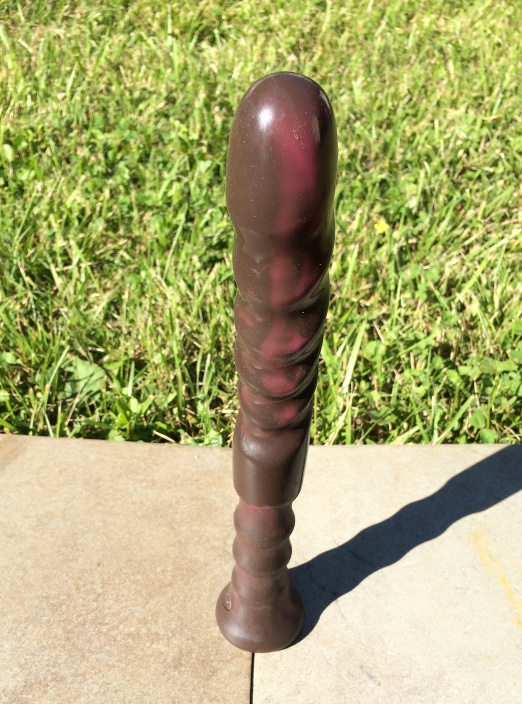 Now, onto the functionality and feel of it all.  The Echo Handle is a solid toy. Not solid as in firm, although the toy offers Tantus's traditional firmness of the silicone you might find in the Vamp or other basic models, but solid as in a structurally sound, well thought out piece.  It has flop, which is sort of part and parcel to the physics of having an 11 inch long toy (7 inches insertable) molded with a grippable handle that allows you to whip it around like Ivy's snake sword from Soulcalibur.  The texture of the handle is subtle but genius, tiny pits mixed with the actual divots molded for your fingers keep the handle from getting slippery with lube. It's so deliberately brilliant, because think about it, if Tantus just made the handle matte in contrast to the rest of the Echo's shine, it would still get slimy with lube and lose grip.  The pitted surface makes for a perfect texture combined with the finger moldings.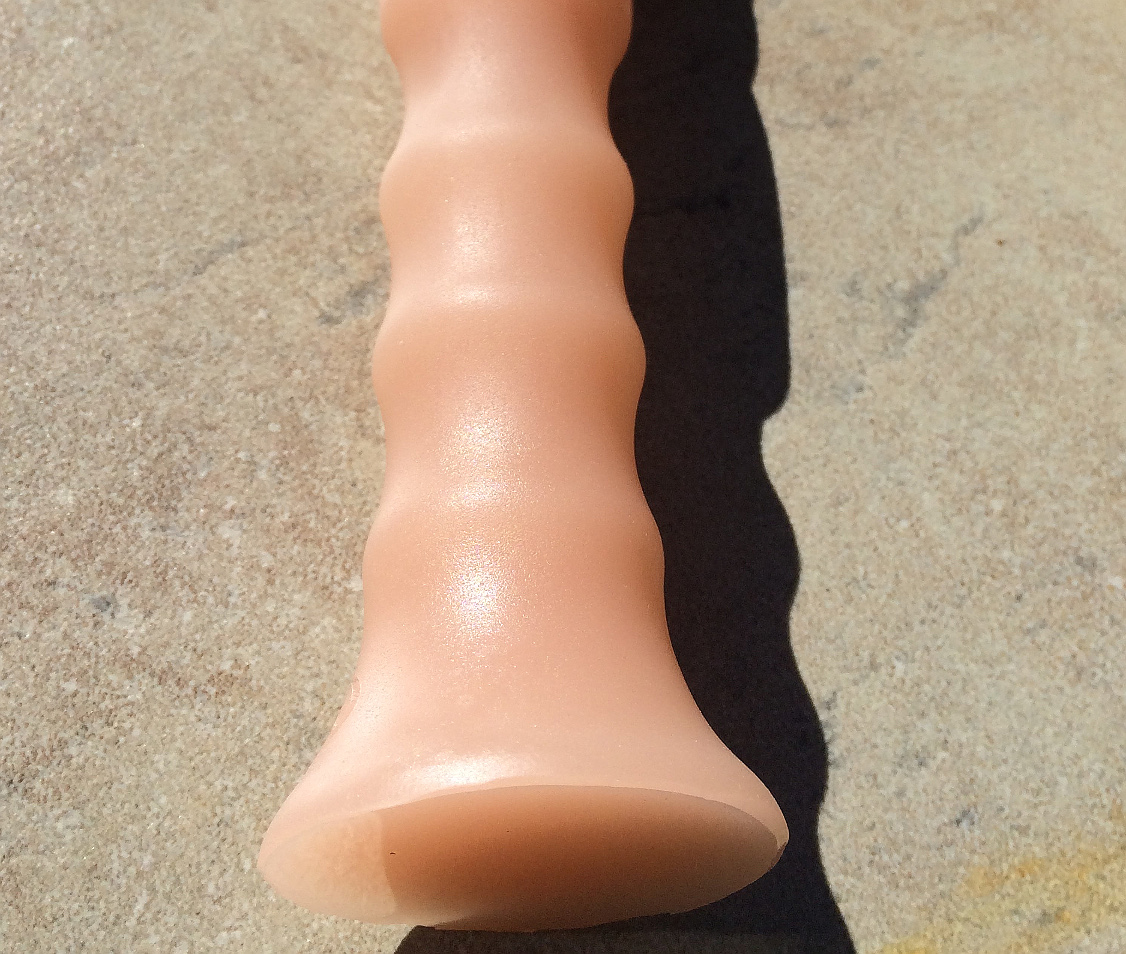 The space between the handle and the dildo itself is also relatively bendy, allowing me to reposition my usage without pushing the dildo into any uncomfortable angles while it's already inside of me.  This flexibility is wonderful for my partner when he fucks me with it, as he can adjust his body for comfort while he penetrates me with the Echo Handle and it doesn't make it pop out of me.   And the insertable part?  Oh my god.  I've never been a huge fan of textured dildos aside from a bent or bulged tip, but these repeated ridges are fucking glorious.  Every single thrust is a new opportunity for g-spot stimulation.  The girth combined with the ridges and generous length stimulates my vaginal opening…you know that feeling you get right as something's being pushed inside you?  Right before you get to the pressure of the fullness?  Yeah, somehow the Echo gives you THAT sensation combined WITH the fullness and my brain can't understand it.
It just feels delicious, and the simplicity of achieving that sensation with the handle makes this all so accessible.  It makes the thrusting and the grip so easy.  It makes me come almost too fast, and I love that my fingers don't have to cramp up forming a death claw around a flimsy base on a short dildo. Cleanup is boil, bleach, top-rack dishwasher, towel dry, or swing around water droplets at your partner screaming "THE POWER OF CHRIST COMPELS YOU" to terrify them, whatever.  The Echo Handle can also stand up on its own if you balance it verrrrry delicately and no strong winds blow by.  All in all I am really pleased with the Echo Handle's design, and if you truly don't care about the color (look deep into your heart, because I thought I was among that population once), the grab bag is a wonderful option to get your hands on a great toy at an unbeatable price point.