I don't know what it is about ass talk that makes me either smother it with puns or anthropomorphize all things butt-related.  I've never been the kid who drew
dick graffiti
 (ok maybe sometimes) or called someone a pussy…my lexicon has always been oriented towards the posterior.  I guess I'm just an ass man.  Or an asshole.  Or just an ass, in general.  I still remember having to sing alto in sixth grade Chorale for
"Tomorrow Shall Be My Dancing Day,"
and NEVER being able to make it through the lyric, "Between an ox and a silly poor ass" without losing my shit.  That horrible
commercial
where the guy accidentally calls his interviewer "Dumbass" when his name is actually "Mr. Dumas?"  Unforgettable.  So yeah, it's really hard for me to write any review about anal toys, any blog post about anal health, or any commentary on anal sex without getting a little ridiculous.  Sorry, but also, maybe a little not sorry?   Anyway…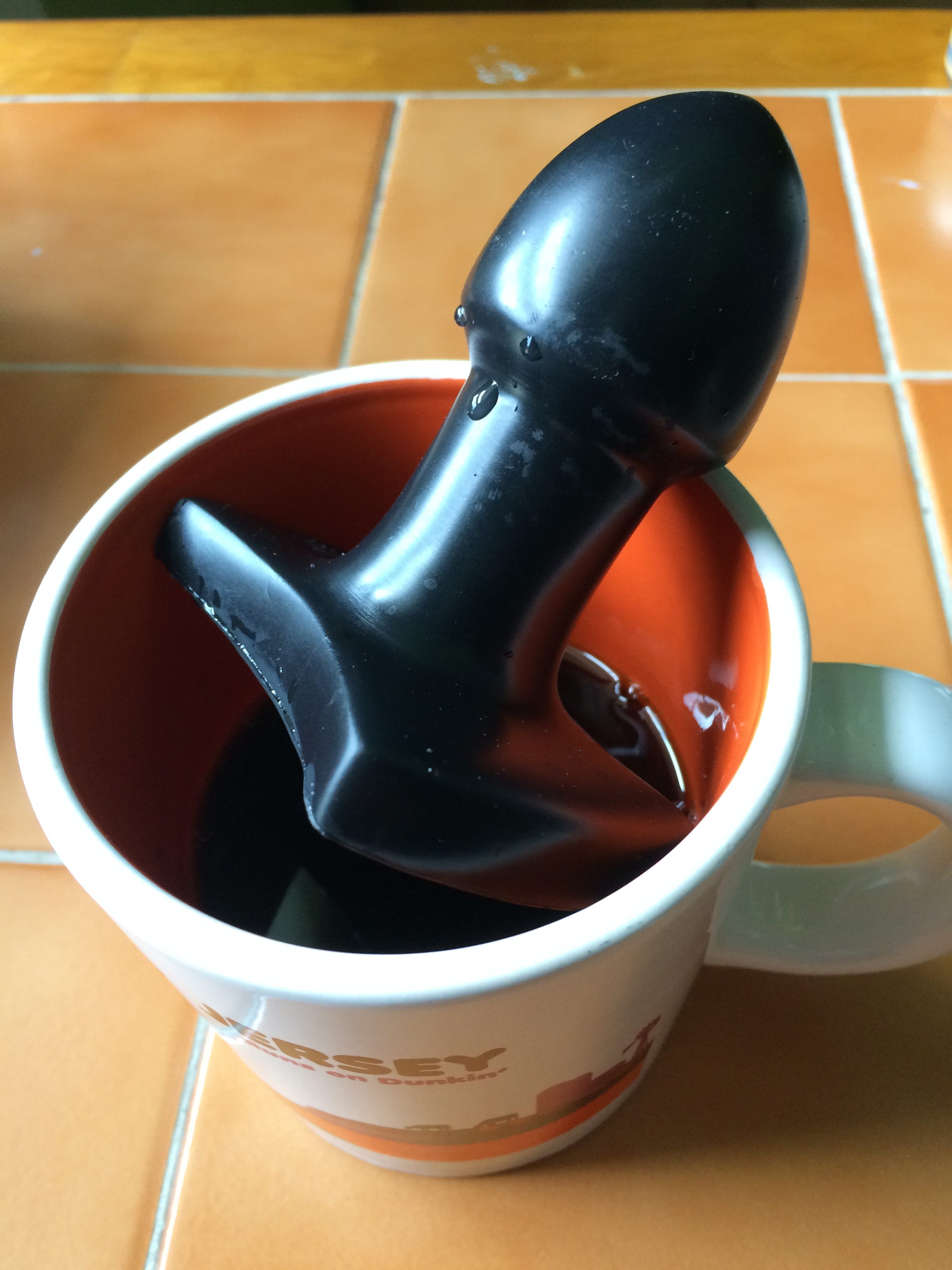 The
Vixen Tristan 1
has been in my anal toy repertoire since its days known only as the Tristan, before the
Tristan 2
came to be.  Given that the Tristan 2 is a little more short and stout when the Tristan 1 is already too girthy and not long enough for me, I don't think I'll be buying the Tristan 2 anytime soon, but more on that later.  I initially bought the Tristan 1 because it checked off several points of interest for me in a butt plug.  It had a seemingly reasonably long shaft, a flanged (flared) base that was meant to fit between buttcheeks comfortably so I could potentially walk around with it or have double penetrative sex more easily with it, it was tauted to stay put and not "pop out," it was silicone and black, a color I like for anal toys because it doesn't show any
santorum
-y goodness after a rough go, and it was named and endorsed by
Tristan Taormino
herself.
Working in a porn store for 8 plus years, Tristan had become my go-to educator and filmmaker when customers asked me about trying anal sex, comparing it to what they had seen in hardcore porn like Evil Angel's
Anal Acrobats
and the like.  Don't get me wrong, I have a serious respect for stars like
Proxy Paige
and
HotKinkyJo
who can stretch their anuses with supernatural ability, but Tristan gave a really casual accessibility to education through porn using actual porn stars to demonstrate a less intimidating approach to anal.  It's still mindblowing to look back to the
books
and films and think they were made from ten to sixteen years ago.  What she did was absolutely groundbreaking then, and she continues to work her ass off to this day, educating and promoting sexuality awareness and positivity.  I'll be attending the
Woodhull Sexual Freedom Summit
come August, and can't wait to see
her
there.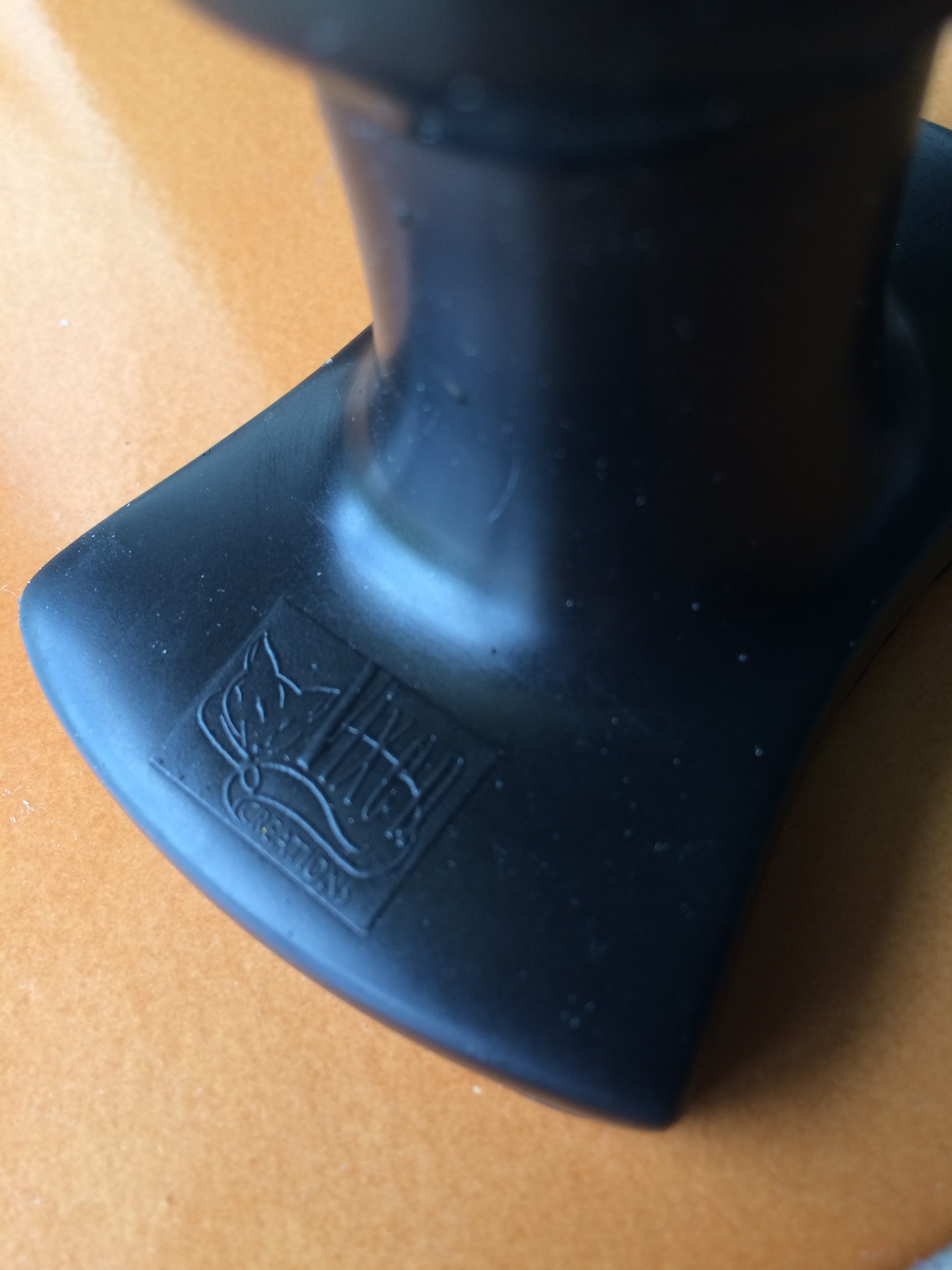 I don't usually spend a lot of time discussing packaging, but Vixen's packaging of the Tristan was amazing.  It came in this clear plastic
cylindrical tub
 (a photo from Smitten Kitten's website that gives you an idea) that was perfect for storage.  If I didn't want to display my Tristan on my toy shelf, I would definitely have kept it in here, and I hung onto this container for quite some time, trying to figure out some other use for it because it was just that cool.  I can understand why the Tristan comes with this container, though, as the Vixen silicone used to make it is an absolute lint magnet.  Granted, most silicone tends to attract lint and dust…my traditional Tantus silicone will snag a cat hair mid air from almost four inches away, but the Tristan, put on the bottom shelf of my toy rack after a wash and dry, will be covered in dust in less than a day.  This is definitely an anal toy you are going to need to rinse off before usage each time, or at least have baby wipes handy.
The material is SO squishy.  I had felt Vixskin in my partner's
neon green Mustang
 they affectionately named "Patient Zero," but the squish and give of the Tristan, even with a solid inner core, made it really difficult to insert, especially when lubed up.  It has a very rounded head with only a slightly pointed tip, so my ass is very hesitant to take it and I can't really apply firm pressure to squeeze it inside of me without the neck of the toy bending and slipping the bulb out of place.  With enough breathing and a vibrator on my clit, more often than not I am able to get the Tristan inside of me, and it is THEN that the softness of the silicone feels amazing.  The clenching of my sphincter makes the silicone conform nicely to my insides and it's super comfortable.  This feeling usually doesn't last very long, however, as when I use a vibrator and bring myself to orgasm, the way my bits swell does not work together with how the bulb rests inside of me.  It's almost like it's too short, like if the bulb were just a half inch higher, my ass would have something more to grab onto while everything swelled and contracted during orgasm and it wouldn't feel so achy and painful.
And while Tristan's right, it doesn't pop out during orgasm or contractions the way a lot of my other butt toys have, this one goes flying when I am double penetrating myself with something else.  Even the slimmest and softest of dildos will make the Tristan immediately slip out of me when I insert them vaginally.  I do love how the cut of the base fits between my butt cheeks, but conversely, it does mean this is less material to grab onto if I want to wiggle the butt plug slightly in and out of me while I hold a vibe on my clit.  And given that the Vixen silicone is so soft to begin with, I can't really get much of a grip on the flange to work the butt plug, so the Tristan really is just one of those plugs that has to stay put once it's in me.
I feel like if they made a Tristan 3 with a longer neck, more of a taper to the head, and more of a severe graduation from the bulb to the neck so it truly stays put during things like double penetration, I'd have a new favorite butt plug.  But for now, the Tristan takes a little too much work to make it worth it for me.
I
will 
say, though, that the Tristan stretched me out just enough to take my
Shilo
really comfortably tonight, and although my primary partner didn't enjoy the Shilo for pegging
his 
butthole, I am
telling you
, that toy is
amazing 
in my ass.  Like holy shit, I have a dick in my ass (technically
my 
dick in my ass, which is even hotter).  If my boyfriend took his dick out of my ass and put the Shilo in already warmed up, I swear to Bowie I wouldn't know the difference.  I was so fucking impressed.  So while the Tristan may not be my favorite anal toy, I may have just now found my new favorite pegging toy.  So thanks Tristan.  I couldn't have discovered this without you! <3