I feel like there is no possible way to review my new Godemiche "gets" without reviewing them as a trifecta of discovery. Each item opened me up to so many new and delightful sensations beyond what I ever expected. I was already excited to be buying from an artisanal company, and I knew despite the better deals on shipping I could get by purchasing their products from SheVibe or Early2Bed, I was willing to spend a little extra on international shipping to get a more customized product.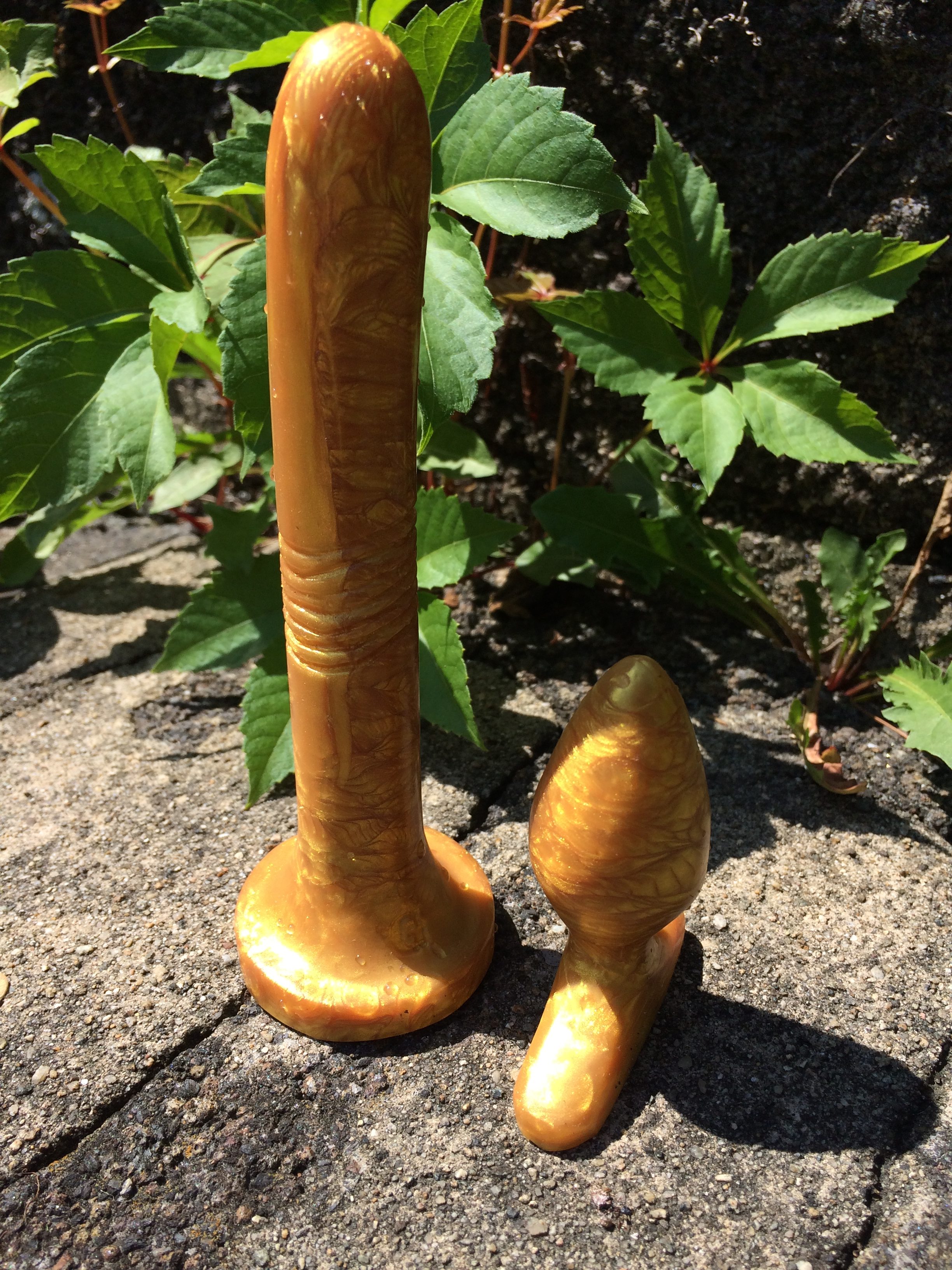 I'd been on Godemiche's subscription list for some time and following them on Twitter.  I'd seen some of their earlier incarnations of the Adam-QUBE filled with colorful chunks of neon silicone and their most recent take on literally "fucking capitalism" by embedding your own money in a dildo. It always reminded me of those Pleaser Heels we used to sell at the adult store that let you put your cash tips in the soles, which I thought were amazing.  Godemiche has been so creative with their work and I've loved seeing them interact with customers and folks in general, so it was just a matter of time before I found something I really wanted.
When their Anal Beginners Starter Pack went on sale and one of the color options was that incredible gold in the Adam, I HAD to buy it. My primary partner is a gender non-conforming but publicly cis-presenting male and we have a really wonderful relationship playing with our gender roles in the bedroom. All genderfuckery aside, anal and blowjobs are two of our favorite activities, and while my Shilo (which I wholly identify as my dick, beyond any of the other dildos I own), is fine for his mouth, it, as well as all of the other dildos we've tried, just hasn't been the right fit for pegging. Some are either too firm, too deep, have too much of a curve, etc.
The closest one we've ever liked has been a "Platinum Silicone" dildo by Doc Johnson called "The Only" which has since been discontinued. So when we saw this beginner's kit that had a dildo and a plug, I was sold. When I also saw that Godemiche sometimes holds specials for subscribers where you can buy products in limited color batches at discounted prices, I immediately scooped up an Adam in a grayish silver swirl.
What arrived in the mail completely blew my mind in size and proportion. The Adam was huge, so much bigger than I expected. And the butt plug was so tiny! But the matching gold dildo, which I've affectionately dubbed "Goldfinger," (Godemiche already calls the gold version of their Adam the "Gold Member," so I found this to be fitting) looked like my baby bear of the bunch; it appeared to be just right. Little did I know, they were alllll just right.
Like, Godemiche must have put a lot of thought into the sizing of these because they were so perfect for my parts. The plug, where I worried it would pop out immediately, slid in comfortably and stayed put the entire time. The legs of it fit so comfortably against my perineum that they stimulated me but at the same time were barely noticeable. And the stiffness and thickness of the silicone reassured me that the flared legs were not going to bend, that no amount of clenching during orgasm was going to suck this plug inside of me or push it out. It was right where it needed to be and the exact size it needed to be.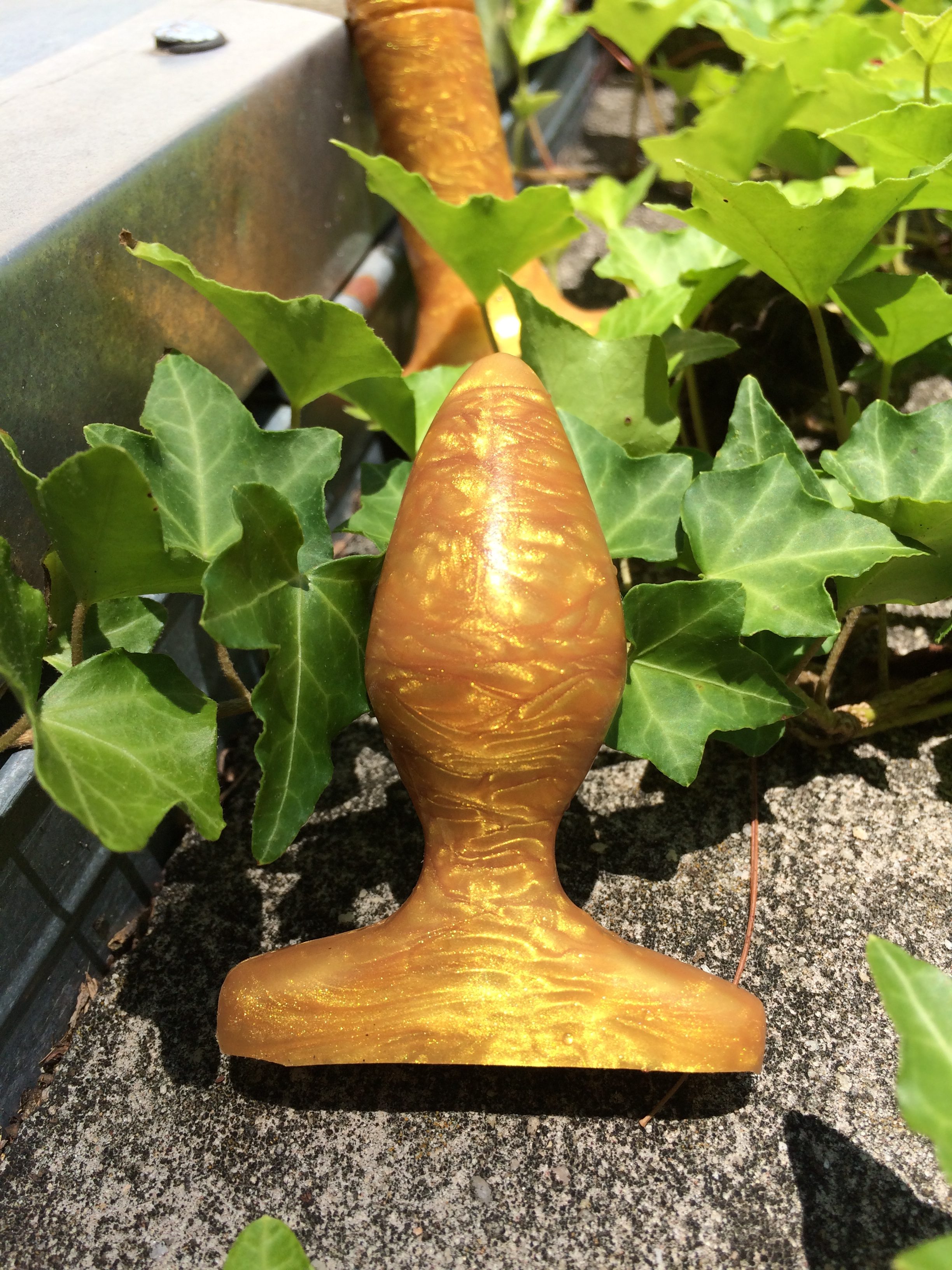 In fact, starting with the plug made it a great icebreaker for the next step to the Goldfinger.  After taking the plug out, the Goldfinger slid right in, and easily so. Its silicone is still the same firmness, but because it is so thin, it has nice bend, and the little ridges offer it a flexibility (think of a bendy straw) as well as some added texture around my anus as I pull it in and out. I was initially dubious about these ridges, but they are subtle enough that they provide some really nice stimulation. I found myself only inserting this dildo a little past the ridges and then pulling it out, but because of the thinness and the ease of its glide, I could give myself a really rigorous fucking without any discomfort. It also left plenty of grip at the base for my hand.
Thats the other thing I love about this dildo. The base is nice and thick. It fits nicely into a smaller o-ring, and is totally strap-on compatible for pegging. My partner is in love with it. We typically prepare for toys by using a finger or two, but given that this toy is roughly the size of my middle finger, plus a few inches, it wasn't necessary. And the depth was perfect too! He enjoyed the ridges, and the flexibility of it allowed me to change positions while inside him without being too rough against his prostate.
We didn't even need to use our Liberator Jaz, which we usually do, in order to get his butt high enough in the air, and doggy style was much easier because he could arch his back comfortably without me poking his insides with something too thick. We finally found the perfect pegging dildo for him, which makes us super happy. As far as an anal dildo for solo play, he said it's a little on the thin side, as when he plays alone he likes something thicker as he can relax more and take things slower, but for partnered fucking, the Goldfinger was fucking aces.
This is also a dildo that might be more comfortable for folks with vulvodynia, vaginismus, transmen and transwomen who otherwise find larger diameter dildos to be uncomfortable, or just anyone who is like "Jesus Fucking Christ no, that is too big, just NO."  Also, because dildos aren't always about shoving them into holes, Goldfinger here offers a lot of versatility for other play that may not be possible if you have a huge hunk of dick swinging around in a cumbersome or awkward manner.
Speaking of huge hunks of dick…the Adam. I've got to find a different name for the Adam. I have way too many friends named Adam.  And a brother-in-law.  It just…it just doesn't work.  But yes, this dildo is of Biblical proportion size. I'm not talking a Raptor XL or anything near Bad Dragon levels, though given the firmness of Godemiche's silicone, particularly in this pour (which is an amazing pour, Godemiche really knows what they're doing with their marbling), the Adam's aftermath is mammoth.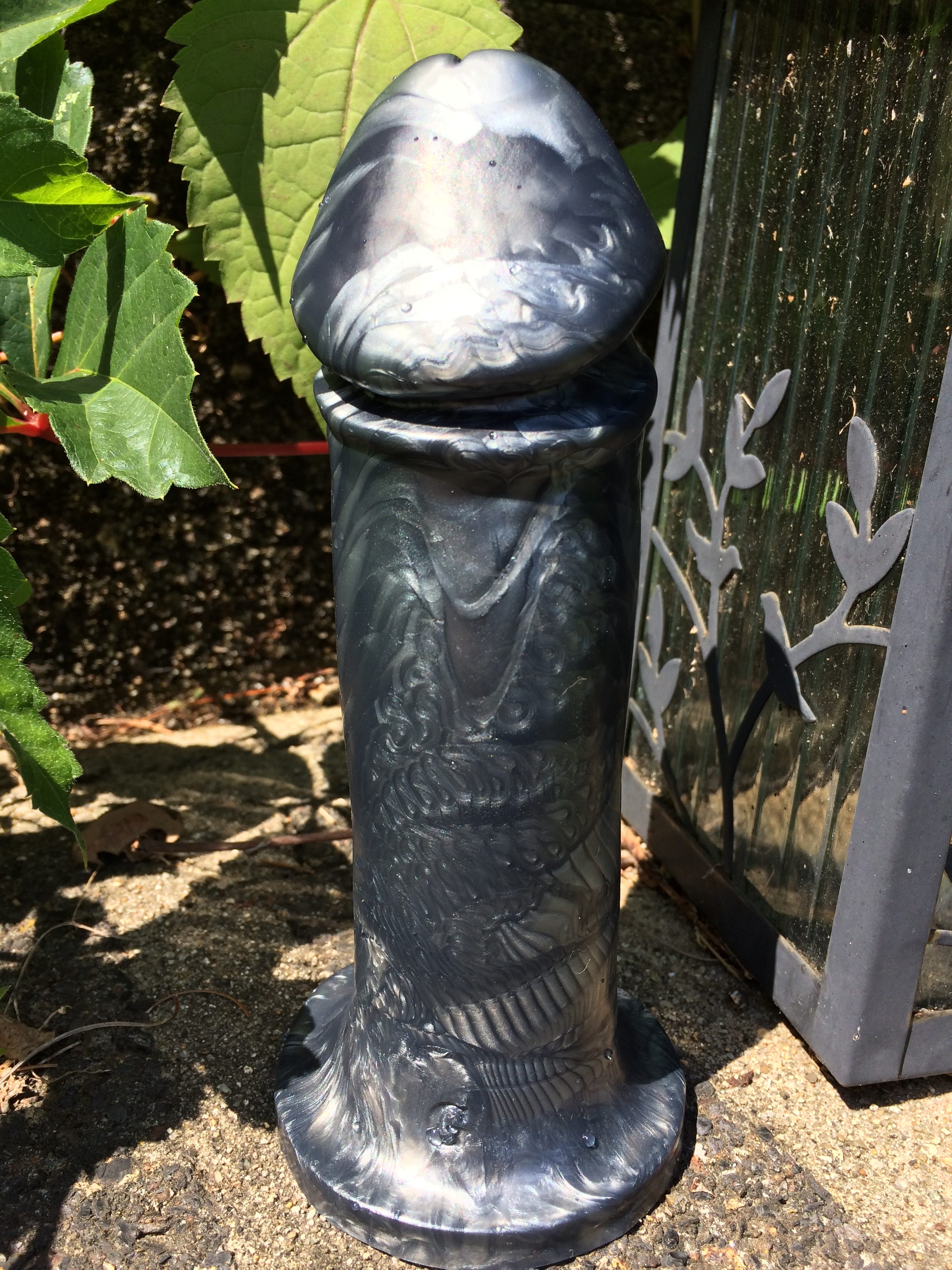 What makes the dildo more impressive (even in the etymological sense of the word "impression"), is the space between the glans and where the foreskin hypothetically pulls back. It's not actually a squishy, retractable foreskin. This is a molded, hard, silicone foreskin that pops against my g-spot every time I can barely manage to pull the Adam out of me. It feels amazing, but I find myself not really wanting to pull the Adam out of me. When I have it in my front bits, I want every inch of it in me, stretching me out, filling me up.
This is my Gunmetal Goliath. This is my Monument of Mons. When I fuck the Adam, the Adam fucks me. It is huge, it is dense, it is severe in its edges, and it makes me come on an average of 30 seconds if I add vibration. I'm not kidding. I've tried the Adam ten times already. I had one outlier of a two minute orgasm and that was because my coconut oil lube dispenser was too far out of reach.  (Though I do really appreciate the free bottle of Give Lube Silicone + they included with my order, and according to FAQ's this silicone lube will not deteriorate the silicone in Godemiche's creations).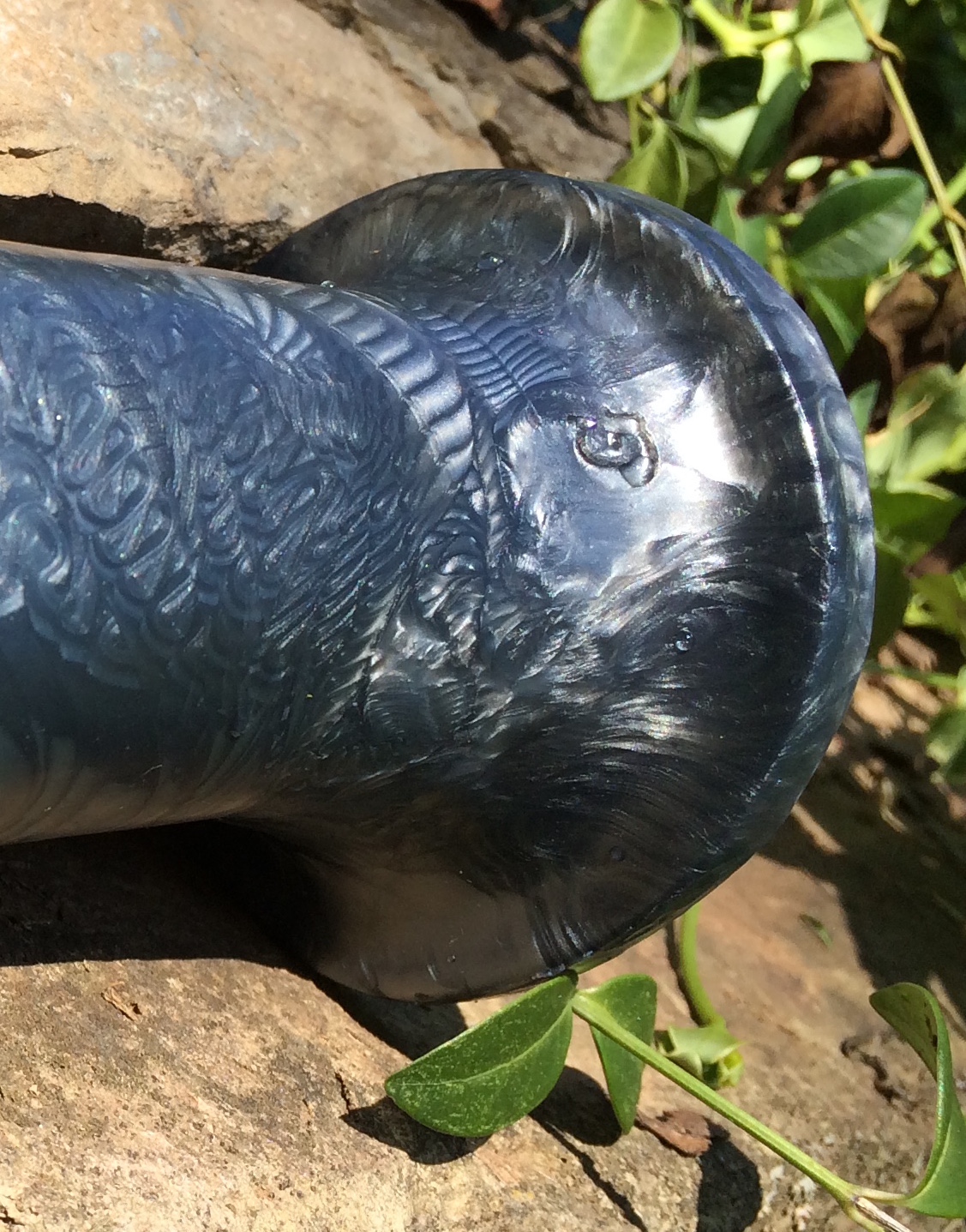 Between my graduations from the Mikey O2 to the Raptor to the Adam, I am realizing how much of a girth slut I have become with my dildos. I love my G-spot vibrators, don't get me wrong. But if I'm going to have a dildo, I want it thick, and Adam is my new go-to for a good stretch. My only critique, and this is barely even a critique because I am fucking greedy and I don't think I'd even use this dildo on anyone but myself, is that the base of the Adam, in comparison to the shaft's chunky glory, is actually a little flimsy. There's not much to grab onto and given how much lube I need to work this dildo, I find my fingers slipping around it, trying to pinch on to a half inch of flare when I really want to push the dildo inside of me. It kind of hinders my thrusting pattern when I fumble for a grip, so if Godemiche could either lengthen their flare or thicken it a little, I think the Adam would have a better balance.
All in all, between the Anal Beginners Kit and the Adam, the functionality, the artistry, and the versatility of the products, I am beyond impressed with Godemiche's quality and will definitely continue to buy from them in the future. They now have the Ambit, a curved dildo that looks like heaven.  I feel like there are too many religious references in this review…I maybe put a little too much GOD in the Godemiche.  Orgasms do weird things to me sometimes.  Anyway…