Walking the halls of the Hilton Alexandria Mark Center on a warm Thursday in August, full of curiosity, anxiety, anticipating the cusping Woodhull Sexual Freedom Summit about to break into full swing all around me, I found myself clinging, quite often literally, to the familiar comforts of display tables and free samples.  I hoped to strike up conversations, but knew if promoters were busy or engaged in other business I still had the safety net of looking at, and with permission, handling the goodies on each table.  I had the pleasure of grabbing some lube sachets, stickers, free mints (thank god, my blood sugar was so low from not eating), and even finally testing the amazing strength of Doxy's line. Suddenly a glimmer of light caught something, which my eyes darted immediately to like a fish to the lure. Clear sex toys, with ribbons and swirls of color inside of them, wooden paddles with rainbow gradients that put Microsoft Word Art to shame.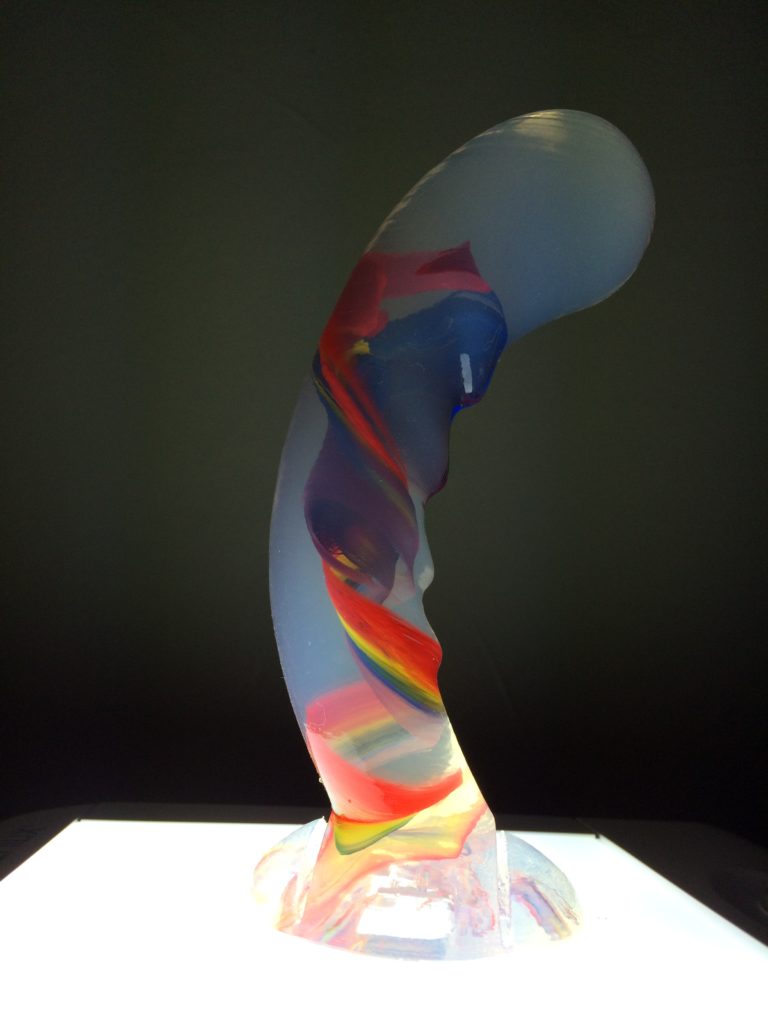 I had seen semi-translucent silicone with Tantus's Flurry and Cush, and had seen some of Godemiche's decorative pours, but never a company that used clear silicone as their primary medium to display the burst of color inside. (Lilly has a great post on clear silicone here).  No one was sitting at the table at the time, so I didn't dare touch them, just admire them really, really closely. Later on during the evening Sex Geek Salon hosted by JoEllen Notte, I was hanging out my dear friend Christoph who had just led an amazing workshop earlier in the day called "From Stonewall to Nursing Homes: What's It Like to be back in the closet after so many years?" (It was SO good). We were joined by a bubbly intellectual fellow with a "Peg the Patriarchy" shirt and some rockin' sideburns and spent our evening playing a bunch of games, coloring, and having nerdy conversations.  Though never formally introduced, I kept seeing this gentleman workshop after workshop, socializing with all different people. I don't know if it was the whir of everything around me, but it wasn't until day two where I realized this was Kenton, the creator of Funkit Toys, the brain and artist of all those gorgeous silicone pours I had been gawking at in my very first hours of the conference.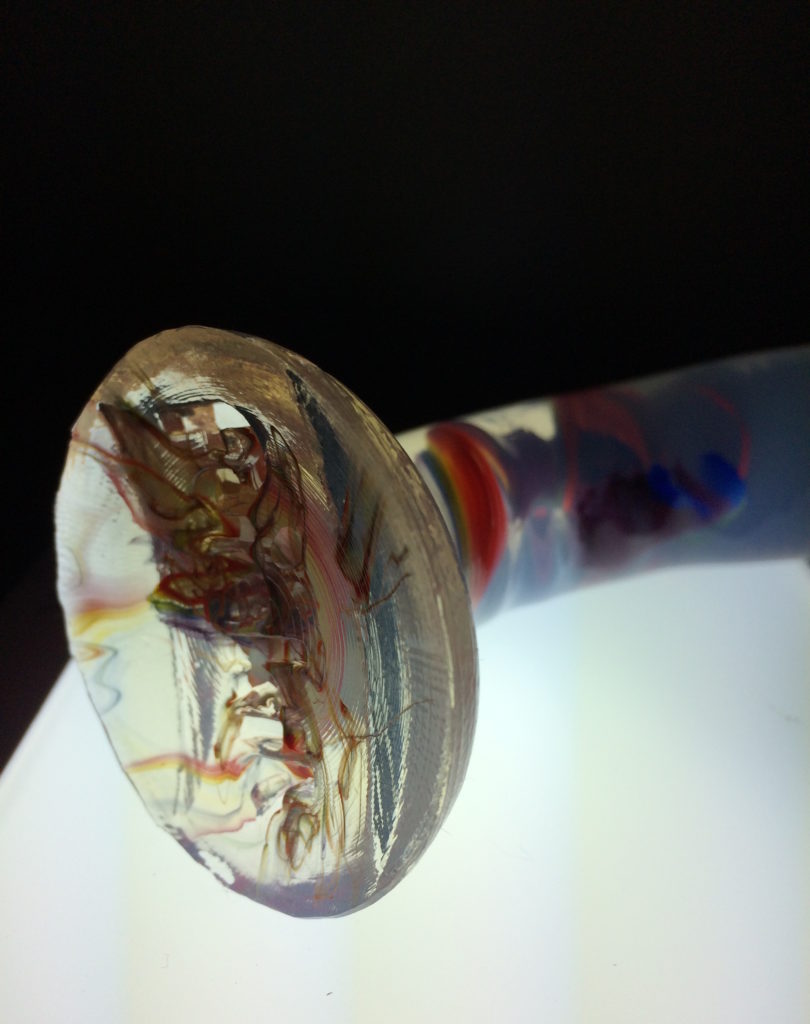 It also took me another day or so to make the connection that his special rainbow pour, named the Crista, was in honor of sex educator, blogger, and all things rainbow, Crista Anne. After my recent purchase of the BS Bingo, I decided I needed another rainbow toy in my life, and the Cristas were absolutely fucking gorgeous in all their spectral variety. Funkit's website has the option to order a custom toy with up to 3 colors swirled in it, but there were no more Cristas in the form of a G-Spot dildo, what Funkit calls their Swing.  I messaged Kenton and asked if he'd be willing to custom make me one. He got back to me the following day saying he'd be glad to, and together we worked on making a Crista with each color to my liking. I especially wanted one with a decent amount of purple, and Kenton was so accommodating towards this request.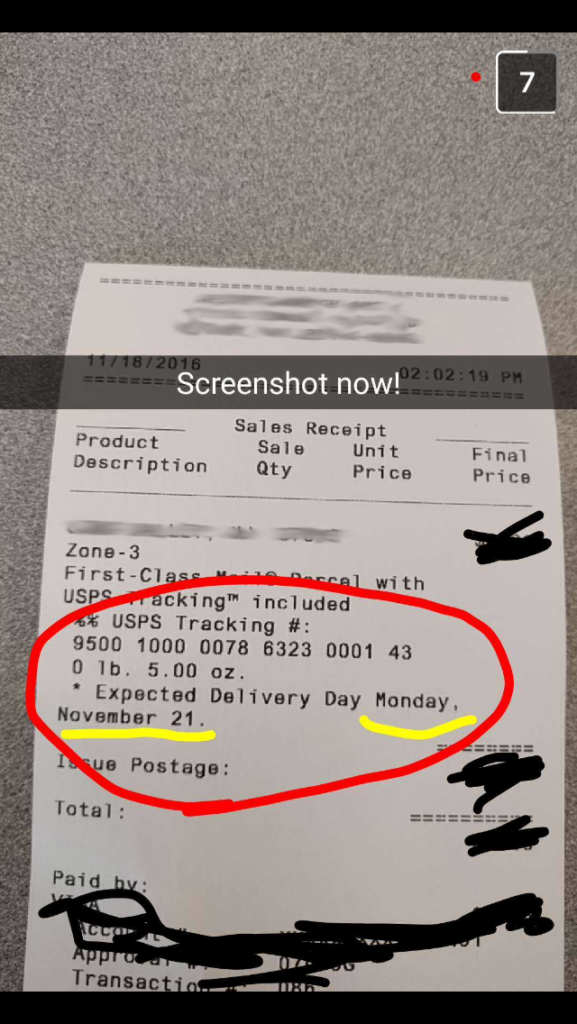 The speed of this process was head-spinning. One day I had made the custom order, and a week later, it was in my hands. Kenton kept me updated every step of the way, literally taking me on a wilderness journey via Snapchat to watch my dildo being shipped out. So now I have my very own Crista, made just for me, and it feels really, really special. I've never had such a unique experience with a sex toy company.  Given my previous review and the recent climate surrounding the sex toy industry, company ethics, interaction, and approach is more important than ever.  I felt the story of my experience with Funkit and Kenton just as worthy as the review itself because inclusivity is a really big thing for me in this industry and the field in general.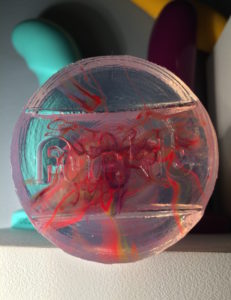 Now for the actual review! The Swing has an outstanding curve to it, to the point where I can't figure out the physics of how it stands independently due to its near perfect C-Shape. It actually does have a little trouble standing on account of Funkit's unique base, which is cut on both sides to enable suction but a little thin material-wise (and I'll get to this in a bit). So while the dildo can stand up on its own, it's just a little precarious.  For folx who like to put their dils on display or stand them up after use so lube doesn't get everywhere, the Swing may be a little tricky.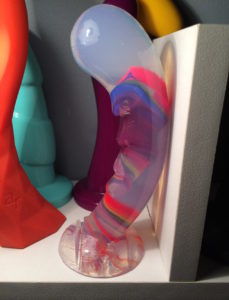 The girth tapers a tad narrowly towards the bottom which I find makes it easier for my fingers to grip, but with the shore and the density of the silicone, makes it the shaft a bit floppy and bendy. The top gets much thicker in density, which is good, because it pushes against my G-Spot, but it's not overly bulbous. There are a series of ridges from top to base, which I don't necessarily feel during thrusting, but they are really essential for grip and also for getting a tactile sense of how far the dildo is when it's inside of me. The Swing is not a long or thick dildo by any means. It's modest, and combined with the pliability of the silicone, makes it versatile for potential anal play. As in, I normally wouldn't put a G-Spot dildo in my butt because a stiff curve gets a bit pinchy for me, but I have a feeling the Swing, like the BS Bingo, will flex to fit comfortably inside of me, so updates to come.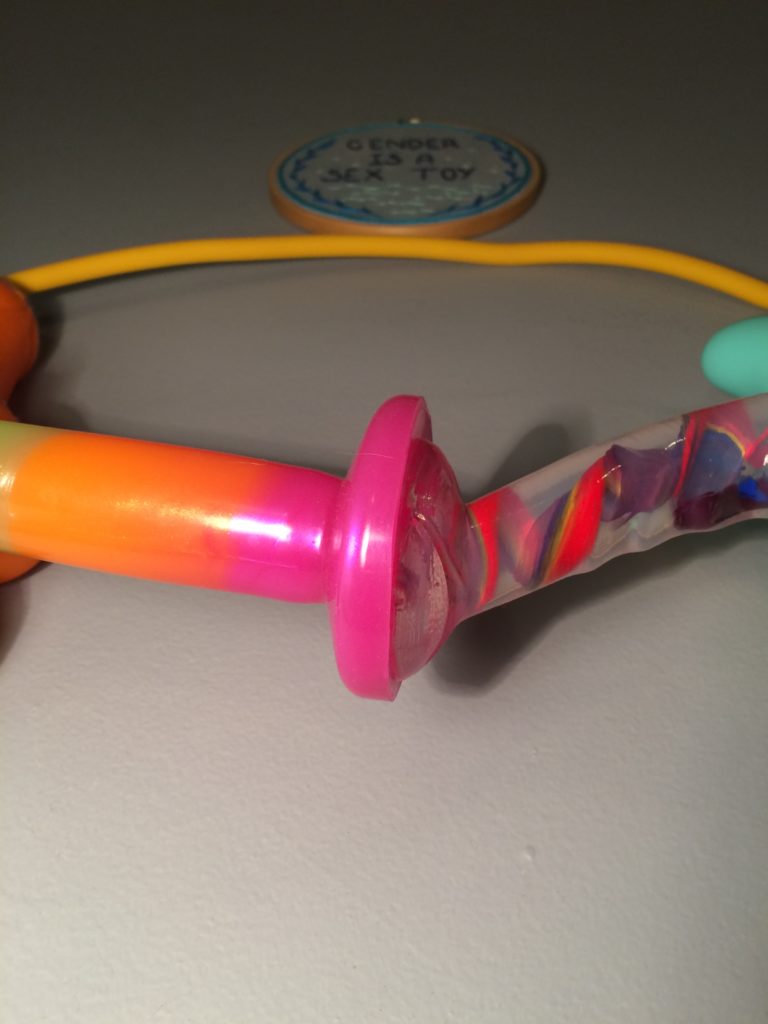 As far as G-Spot stimulation, the Swing is great, particularly if I angle it downwards or have my partner do that for me. I find that I don't insert the Swing very far, just enough to hit my G-Spot, and both my partner and I prefer using the shaft of the Swing itself to thrust rather than the base. Funkit's bases are really unique for their multi-functionality. They offer really strong suction, you can plunk them on the base of another dildo or even one of their Swats and you have a double-ended toy that is not going to pry apart unless you want it to. And this works for almost any dildo base that is big enough to match Funkit's diameter. We tried it on all my Tantus dildos, my Doc Johnson silicone dildos, my Godemiche Adam, and the Swing didn't budge.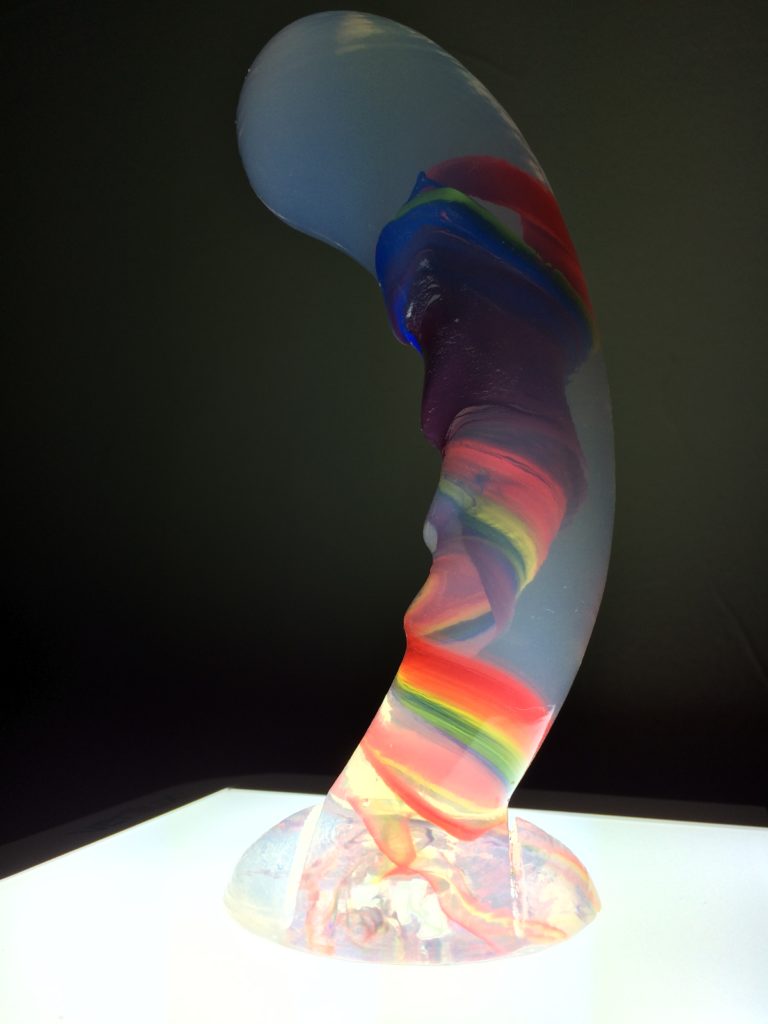 The base itself stays nicely in an O-ring for my harness, mostly I think because of how my Swing tapers and because is not extremely top heavy. Unfortunately, because of how the base is structured, it has flaps that bend down and this makes it tricky to grip if I'm using the dildo on its own. I know Funkit advertises the flaps as making it more grip-friendly, but with lubed fingers, active kegels, and rigorous thrusting, the flaps slip right out of my tightly pinched digits.  I tried to grab the base with my fingers perpendicular to the fold as to not bend the base, but it's still thin enough that I mush it together. Funkit's thought of everything, though. They specially make "Hubs" to attach to the bottom of each product, reinforcing them for a sturdier grip.  I know some other silicone artisans make swatch-type stress relievers or firmness samples in disc shapes (Damn Average has seasonal themed "Squishy Grab Bags" for $20 max with all sorts of fun shapes to squeeze).  Split Peaches even makes glow-in-the-dark silicone "Stress Reliever Boobies," and how fun would it be to have a glowing boob attached to the base of my Crista to reinforce my grip?  All the DIY fun creative ideas, ALL OF THEM.