Oh Lust 2.5, how I wanted to love you! You seemed like everything I was looking for in a mini vibe. That awesome shade of lime green I'd been vying for ever since BMS Leaf came out in the early 2010's (maybe even earlier? I was still working at the sex shop then and begged my manager to stock it, though he never did), the compact shape fitting perfectly in my hand, the slightly bent and squared-off tip resembling a miniature Gigi, the teeny charging port just like my Vr6…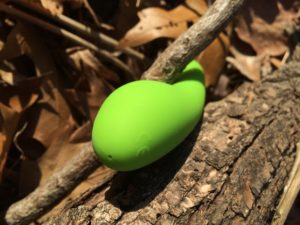 It seemed too good to be true, and when I received my 2.5 on sale from She-Vibe over the summer, it was. After about five minutes, the vibrator died. It overheated so badly, I actually wondered if this was supposed to be a warming vibrator or if I was going to end up with a Samsung Note 7 situation on my clit. I emailed a couple fellow bloggers, even messaged SheVibe, and yup, the 2.5 is not supposed to get hot.
So I went straight to Jopen for a return. They've historically been amazing with their claims process and pulled me through some tight spots. Yet again, Jopen came through with a little note and a free vibrating SEBS cock ring, a disposable version of their "Key" line which I was curious about. I never use cock rings so I'll probably end up using it for a workshop but it was a really awesome gesture atop excellent customer service.
@JopenLLC never ceases to amaze me with their outstanding customer service. Good on you for a legit warranty and easy process. pic.twitter.com/SxUTg6B6PP

— Avery (@ThePalimpsex) December 14, 2016
So here I am, it's winter, and I'm ready to finally experience my Lust 2.5 as it's meant to be. And I just..::sighs:: It's so incredibly frustrating. The strength and buzziness is comparable to the arm on the Vr6. It's strong, not too deep, but still powerful enough that it really surprised me when I turned it all the way up. Three clicks to get it out of the auto-lock mode, hold the button down to get it at it's strongest, pretty simple stuff. Now the moment this vibration touches my skin, it's a whole 'nother story.
Nothing transmits. This vibrations go into the Upside Down for all I know. The video below has some explanation of how this physically manifests (Closed Captioned, as well).
The pinpoint stimulation needs to be held just slightly on my bits in order to properly vibrate, and I find myself actually using the drag of the silicone (no lube) to pull up my hood a little bit to intensify the sensation. And as I've mentioned before, I'm a left-crura-oriented person, so having to get off by directly stimulating my clit is pretty painful and uncomfortable.
I worked hard for that orgasm. Even tried inserting the Lust to see if it had any G-spot stimulation. Maybe for someone else, but not for me, spoiled by the Prism V and Vr6. The toy is just too small, too short, too narrow for the bent tip to hit anything remotely pleasurable inside of me.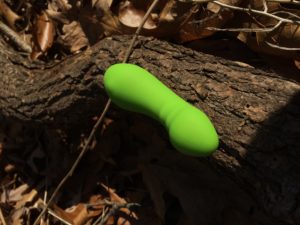 It is what it is. I think if I was already really worked up with a partner and just needed a quick additional buzz to push me over the edge, the Lust might work. But as a standalone, I've found better vibrations in a cheap plastic "Pocket Rocket" than this elegantly shaped toy.
Final concerns about the overheating. It doesn't get so hot that it burns me. It feels like an iPhone after you've been playing Pokemon GO for three hours straight. It just…doesn't feel like it's supposed to happen and that's concerning. What surprised me is the heat actually helped me orgasm. It made me wonder how good a Rosa Rouge might feel all warmed up and rumbly. So while it may be an ongoing defect with the toy, I'm going to use it to my advantage.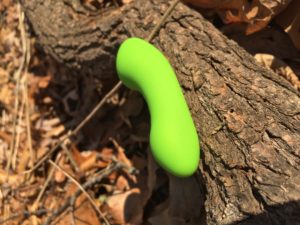 I appreciate Jopen so much for all they've done over the years…they've been really good to me. Maybe the Lust 2.5 line is just a dud. I'm not going to bother with another return to find out. It'll stay on my shelf for truly heated (and out come the puns) encounters, but otherwise I'll stick with what works.