I feel like 2017 has already been a year of anticipation for many folks.  In good ways and bad.  I've had wonderful moments to celebrate, opportunities to reconnect with old friends, beautiful sessions with clients, and many new toys on the way.  I'm also about to begin a new semester at Widener this weekend, one potentially full of improvements and chances to connect further with the rest of my cohort.  But it's already been a bit of a FOMO year for me, missing out on the amazing Creating Change conference in Philadelphia as well as today's Women's March on Washington.  Both powerful gatherings of celebration, resistance, reflection and exchange, sending messages of not only tolerance but unabashed need for awareness as a means of survival in ongoing generations of misinformation and hate.  I am and will absolutely be there in spirit and will do what I can from my emotional and physical locations to support and reciprocate the positive energy of these movements.
https://twitter.com/FemmeReviews/status/781973998175477760
At this time, it feels cosmically organic for me to review the NS Novelties Pride Dildo, a realistic phallic-shaped dildo striped with rainbow colors.  So many of the workshops I teach use rainbows.  From color therapy glasses to rainbow Mr. Sketch markers to mixing rainbows in Oobleck to theming subject matter around chakra colors, rainbows have been thematically elemental throughout my entire life for their multitude of representations.  Spectrums, diversity, pride, vibrancy… everything I can possibly associate with rainbows always enhances my well-being.  During my "Beyond LGBTQ 101" workshops, I love teaching folks what the colors of the Pride Flag signify: sexuality, life, healing, sunlight, nature, magic, art, serenity, harmony, and spirit.  The takeaway of the discussion usually ends up being how each of us, no matter our identity, has the profound capacity to value and cherish each of these symbols.  And so when I use my Pride Dildo, I do it mindfully.  And when I review it today, I want to do it mindfully, because today is a day when symbols of hate and intolerance are all over my television, all over my computer screen…I would much rather wield my rainbow dick and align my chakras through a patriarchy-smashing orgasm than pay any attention to that man behind the curtain.
I used to be repulsed by dildos that resembled dicks.  I disowned them with indignant disdain until I realized I could use the
master's tools to dismantle the master's house
and that language and symbolism can perpetually be reclaimed.  This dick is nobody's dick but my own, and it can represent whatever I want it to.  So when I got the large Pride Dildo and saw that exactly how "realistic" it was, asymmetrically shaped with a bit of a curve, a smaller head, vascular but not grotesquely so, even a scrotal
raphe
, I was actually kind of stoked.  Granted, the Pride is huge in length and girthy in some spots of the shaft, but I felt like I had gotten an actual mold of someone's cock.   The subtle wrinkles of insinuated foreskin underneath the glans hold onto lube nicely, particularly
coconut oil
(my lube of choice), which can get
runny
during warmer application.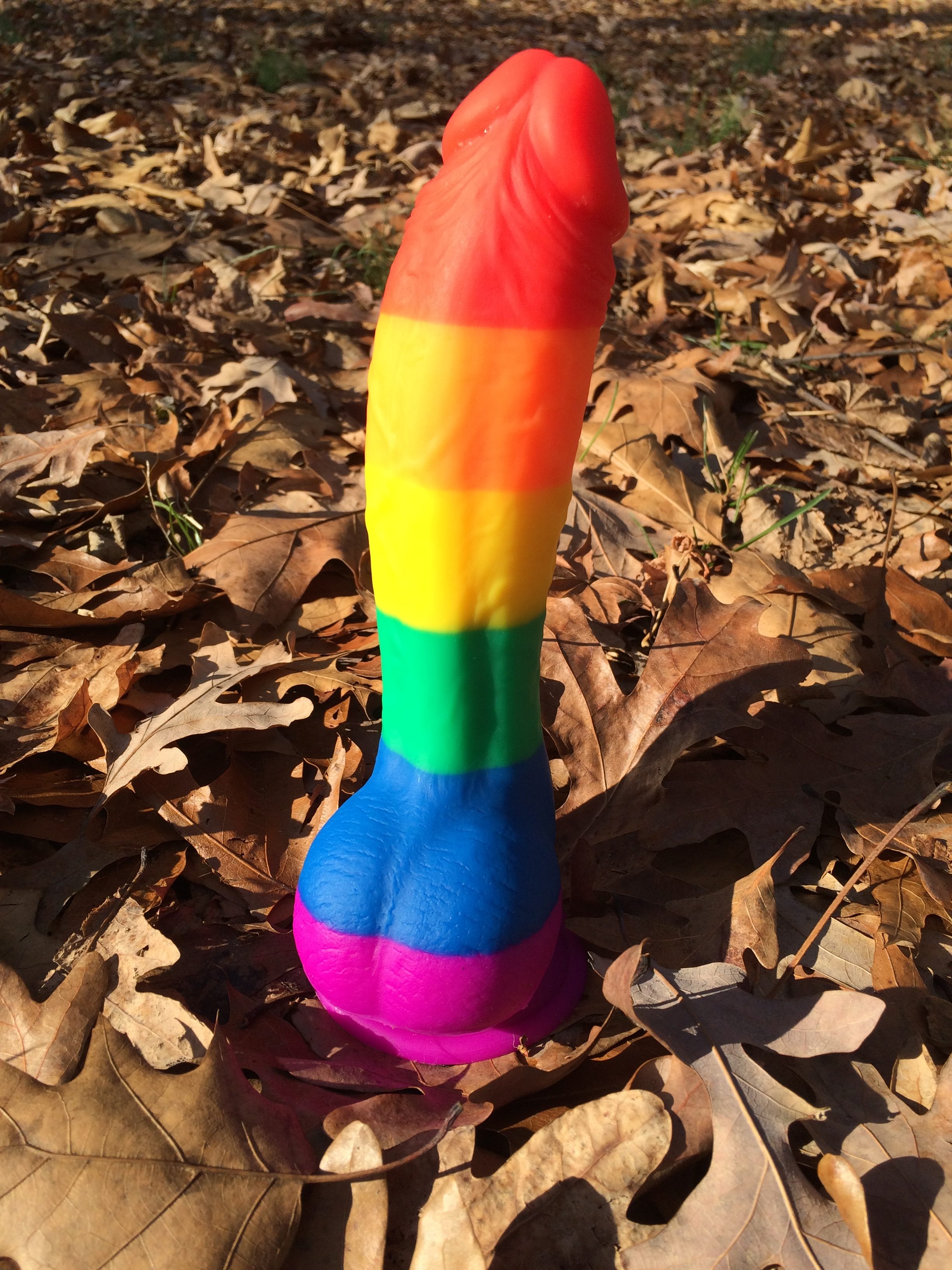 I love having the extra length as an option for deeper penetration, and my partner likes the stripes because he can see how deep he is going inside me according to what color he has gotten to.  The silicone is relatively matte and doesn't attract dust like a lot of my other toys, which is an added bonus.  I do wonder how this dildo would have felt if the silicone were a softer
shore
.  Not complaining though, the density of the silicone, similar to Tantus, gives the Pride plenty of oomph.   Plus it's reasonably inexpensive and comes in a
smaller size
, which I'm honestly debating on buying for my
nonprofit
to use during
condom demonstrations
.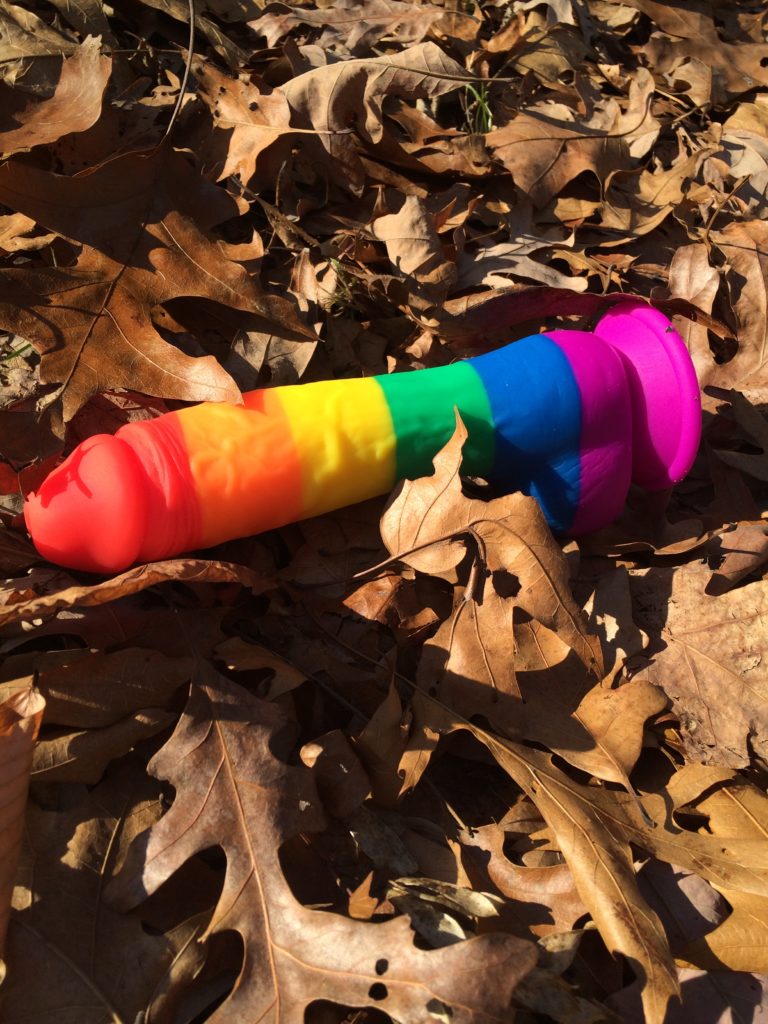 The suction cup at the base is rather floppy, so not really gripping material, but since the testicles are nice and hard, I ended up using them for a handle.  The suction cup is the strongest I've experienced in any sex toy.  Despite the weight of this toy, the cup held it firmly onto everything, from textured
linoleum
tiles to drywall (I know…
how
?!).  I thought I'd really have no purpose for a suction cup until I remembered how much I used to enjoy orgasming on my knees.  I have now discovered a new orgasmic witching hour, 2 o'clock in the morning on the kitchen floor while my partner is soundly snoring in the bedroom.   I'm really fucking satisfied with this dildo and and pleasantly relieved it was able to fulfill my expectations.  I highly recommend it and am so glad to add it to my ever-growing
rainbow collection
of toys.
With love and unity,
Avery