I want to begin this post with a content warning.  While it's super empowering to talk about my disabilities for the next few paragraphs and how they relate to my upcoming review of the Liberator Jaz, they also cover topics of body dysphoria, PTSD, and some allusions to abuse.  This entry is my version of self-care.  Please do what you need to do for your own self-care.  My review of the Jaz will begin with the first image, if you want to scroll ahead.  
Phew.  So 24 hours and some leftover Chinese food later, let's see if I can take another crack at this entry.  I tried making a post that went a little bit into my various disabilities and how they affected my sexuality and sexual identity, only to realize that "No, Avery, that is not for your blog, that is for your fucking thesis."  I also had no idea how traumatic of a writing experience that would be, thinking I had a conceptual handle on how to frame my disabilities when it always ends up a moving target.
What started out as a breakdown of each disability through different models, discussing diagnoses, language, my social positionality, and a lot of body image issues, kept coming back to this holistic traumatic revelation of how each of my disabilities are so deeply ingrained within one another.  How my panic attacks from my degenerative disc disease can also send my SVT into atrial fibrillations.  How my ongoing weight gain isn't just from my bipolar meds, it's from years of calcium channel blockers and my extremely limited exercise regimen on account of my rotted back.  And how it's a terrifying feedback loop because exercise is the one thing that will help my heart, my back (losing weight eases stress on my lumbar discs), and my mind.
What began to resonate the deepest was discussing my lifelong history with PTSD and how scared I am to talk about it in the blogging world because I don't want to trigger folks or misuse language.  I have been so dissociative with PTSD throughout my life and this past year is really the first time I've let things in.  I know why, and I've discussed this with some people but kept largely silent about it.  I've tried to speak up when I hear folks praise
kink/queer/poly relationships
as the highest levels of consent and communication.  But I've also been very coded with my language.  I am not ready to address what has happened to me publicly, but someday soon I will find an
appropriate avenue
to open up about my abuse.
These last few months have been a blessing in terms of honoring disability.  I'm taking a class with Bethany Stevens on Sexuality, Chronic Illness, and Disability, and it's reintroduced me to amazing writers like Clementine Morrigan, Sunaura Taylor, and Leah Lakshmi Piepzna-Samarasinha, as well as some beautiful performances like those of Sins Invalid.  It's also encouraged me to start bringing more direct approaches towards sexuality into my eldercare group therapy sessions, particularly after I screened Salome Chasnoff's "Code of the Freaks" and offered a nudity content warning, only to be chided by the group ("What do you think we are, a bunch of prudes?")
I didn't think they were prudes, but we also spent the previous 15 minutes talking about curb cuts in their local parish and how the visiting pastor never speaks loudly enough, so I made the terrible assumption that Jesus and erotica were mutually exclusive lifestyles (I mean, yes and
no
?).  So yesterday I went full-in: sex toys.  Well, sort of full-in.  I segued with the discussion of the
Sportsheets
line for Veterans with disabilities and followed up by talking about Liberator's
variety of wedges
.  I've disclosed my degenerative disc disease with the group several times…if only they knew how crucial Liberator has been for my own disabilities.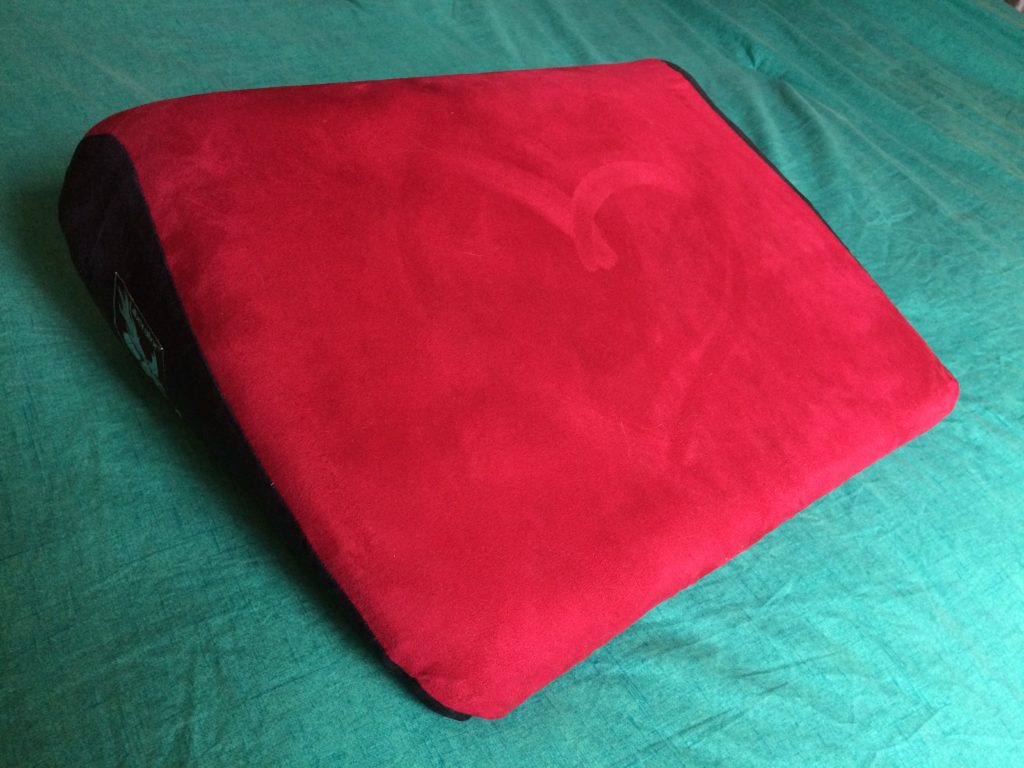 I write this post propped up on my
Jaz
, relieving my legs from the usual
sciatica
I get from sitting in bed.  The Liberator Jaz has been an assistive device for me in myriad ways.  After my
microdiscectomy
, I was able to use it for at-home physical therapy by propping it
under my knees
during strength band exercise.  It's great for my posture when I'm sitting at the computer for extended periods of time.  Under my 200 pounds, the cushion of the Jaz pops right back into place once I stand up.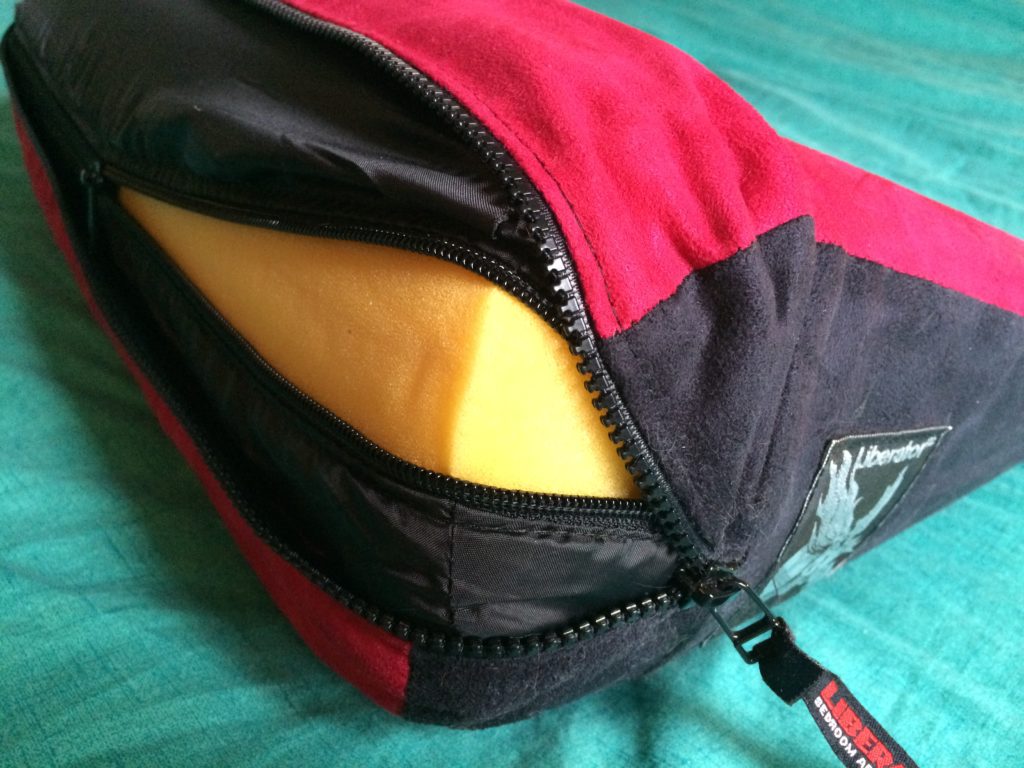 Most importantly though, the Jaz helped me reinvent old sex positions I could no longer get into comfortably after surgery and my
cortisone epidurals
.  Missionary tends to be my favorite as there is no twisting or arching like doggy style/spooning, and I don't get as tired as I would if I were on top.  With missionary I can't tilt my hips as high as I used to without getting a shooting pain through my left hamstring.  On really bad days my sciatica can extend all the way down to my heel, and with the Jaz I can prop my hips/ass in the air for better G-spot stimulation without any added strain.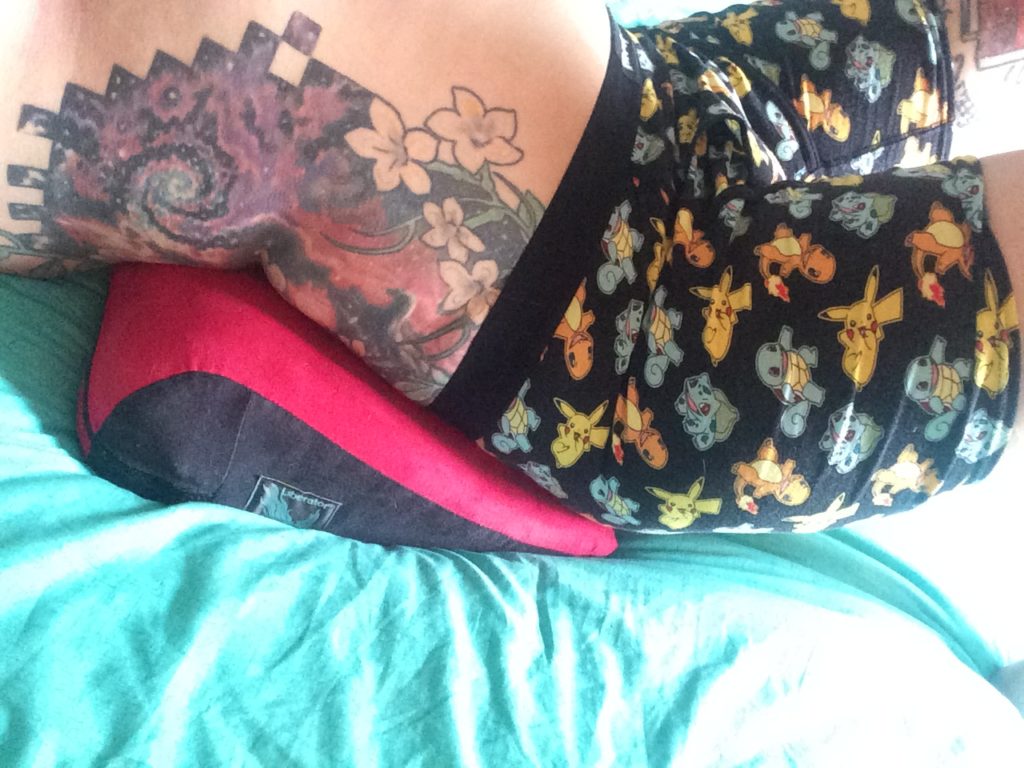 One of my other favorite positions with the Jaz is with my partner bent over it, his ass in the air.  By using the thicker side of the wedge to push him up, his testicles don't get as squished during pegging and he does not have to strain his legs when I peg him from behind.  This way, I can put my weight on top of him while I fuck him and he still has the Jaz keeping a comfy distance between his bits and the bed, so if he wants to reach down to jerk off he has the freedom to do so.  The angle is also much more pleasurable for insertion as I am penetrating in a way that doesn't poke his prostate too much.
So this Jaz is a very versatile little pillow.  I say little because it's pretty much the exact same size as my 15″ Macbook Pro.  One might think that's not big enough to have an effect, but I'm 200 lbs, 5'10", a size 38 mens, and there's plenty of room for me on the Jaz.  My partner is my same height but about 130 lbs and a 28 mens, and the Jaz is still a perfect size for him.  I'm telling you, it's versatile.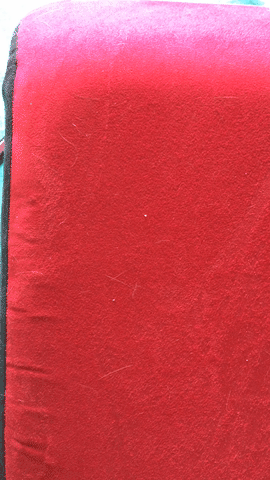 Cleaning is so easy, and I love that it comes with not one, but two covers.  I literally just throw the cover in the wash on cold delicates, no fabric softener, and hang it to dry.  It comes out perfect every time.  You can always spot clean yours but we tend to get ours a little…messy.  Also, this thing IS a total cat hair magnet, but I've found that those lint brushes (not the sticky ones but the fuzzy ones) pick everything up really nicely.  One final bonus about the Liberator Jaz is price.  At $54 it's worth every penny for the durability, ease of use, and innovation.  I honestly think it should be in every person's arsenal, regardless of ability or if they're going to use it for sex.  I guarantee you will find a really good purpose for this thing one day.