So my birthday recently passed on March 31st, and despite living that typical Aries life for now 32 years…firey, stubborn, willing to get into fights with "high-horsed" folx, I've also heard the Zodiac has
changed
and supposedly I'm a Pisces?  Which, to be honest, sort of makes sense.  The water to my fire, the manic depression of my life, my tendency to socially withdraw but also want to flow and enjoy the fluidity of existence…even the way I write with ellipsis because I find discomfort in the permanence of a period.  My living space has gradually taken on water themes in my places of relaxation, namely the
bathroom
and
bedroom
.  (Interestingly enough my
living room
has always had red and blue themes…fire and water perhaps?)  So I know the Zodiac is often what we make of it and many folx are saying the new shift is kind of BS, but if I could pick any other sign to replace the Aries I've strongly identified with for all these years, it'd probably have to be a Pisces.
After finally diving into the world of fantasy dildos with my
Phoenix Flame Forge
Monty the
Manticore
, I wanted to continue my collection, but also learned through my
Damn Average
Lumpy
that soft silicone just wasn't for me.  I knew
Tails and Portholes
had so many beautiful nautically-themed pieces that came with dual density options, but was hesitant to shell out the doubloons right away.  When the announcement came that Brandie would be closing up shop for good, the choice was made.  The Leviathan I'd been scoping out needed to become a reality.  I picked my colors (Mermaid's Tail, a beautiful swirl of glittery blue and green), selected the dual density option, and waited for my loot to arrive.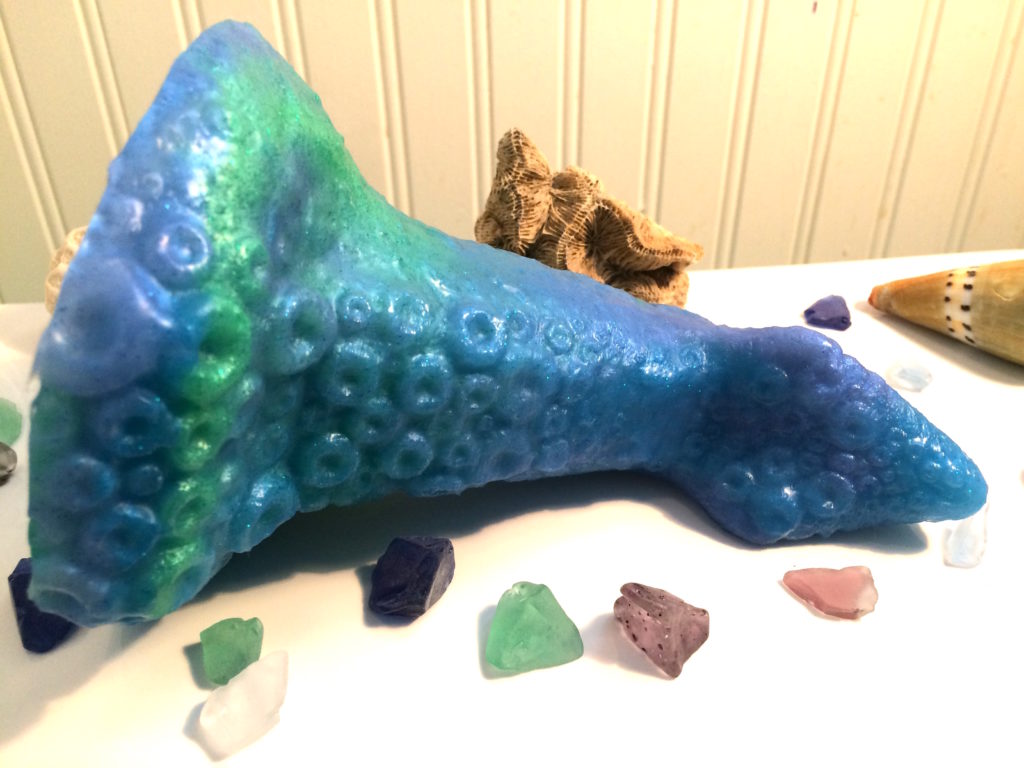 What came in a lovely organza pouch was my Leviathan, a squishy, intricately detailed work of art with a gorgeous gloss and an extremely wide base.  This is easily the most beautiful toy in my collection now.  Every sucker, every ridge, every dip is so deliberately and brilliantly placed all the way down to the logo at the dorsal base of the toy.  SO much thought went into the exterior design of this toy and I wish I could find more ways to show it off because it seems tragic to have it sitting on a shelf all day.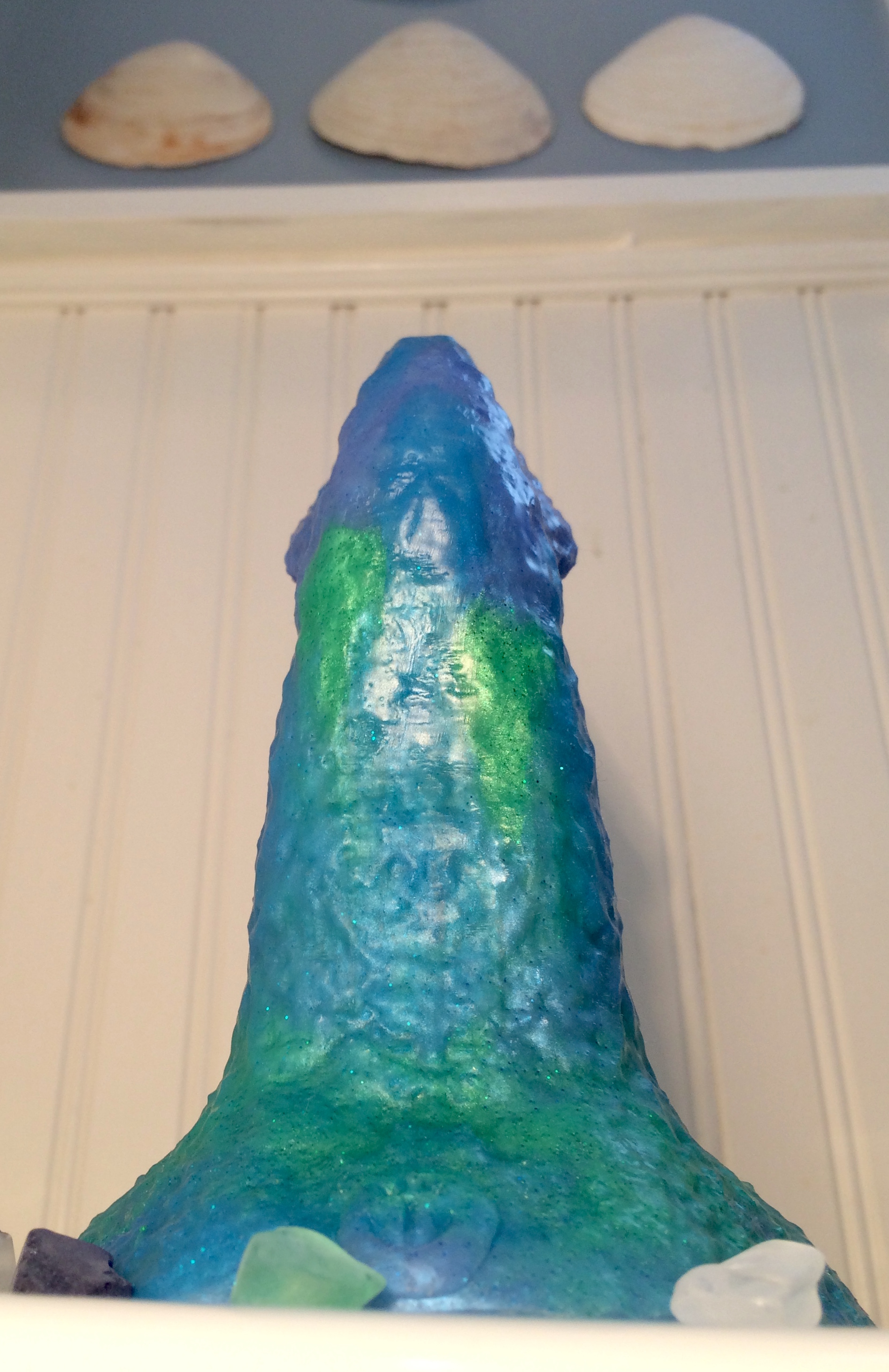 As far as function goes, I found myself expecting the wide tip and expansive shaft to leave me feeling full, which didn't quite happen.  During thrusting, the Leviathan just sort of mushed into me, and while the flayed head does give me that initial G-spot shock of "oh hello" when it pops inside, once I get to a thrusting motion I find myself wanting more.  I tried using the Leviathan as a G-spotter to orgasm by pulling the head slightly out of me instead of thrusting it, but the softness of the head conformed to the shape of my G-spot instead of stimulating it.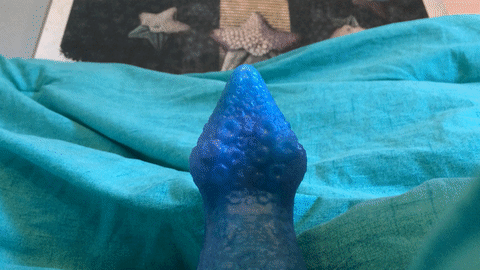 Even with the dual-density, the silicone was just too soft to offer enough pressure, and the dual-density itself does not reach the G-spot tip.  When I use it vigorously, I'm just wiggling it all over the place, going left and right but not really in and out. The Leviathan is acharacteristic from my experience with dual-densities like the
Vixskin Mustang
,
Tantus's Mikey
, or my
NYTC Shilo
.  Because The Leviathan's dual-density doesn't flare throughout its extremely wide base, the base itself gets a little floppy and bends when I try to get a grip.  Even though the base is still really nicely designed, (there's even a little thumb-dip) something still isn't working and I think it might just be the large base circumference combined with the softness and overall weight of the toy.  If my hands were a little bigger or my grip a little stronger this might work but right now I just keep cramping up.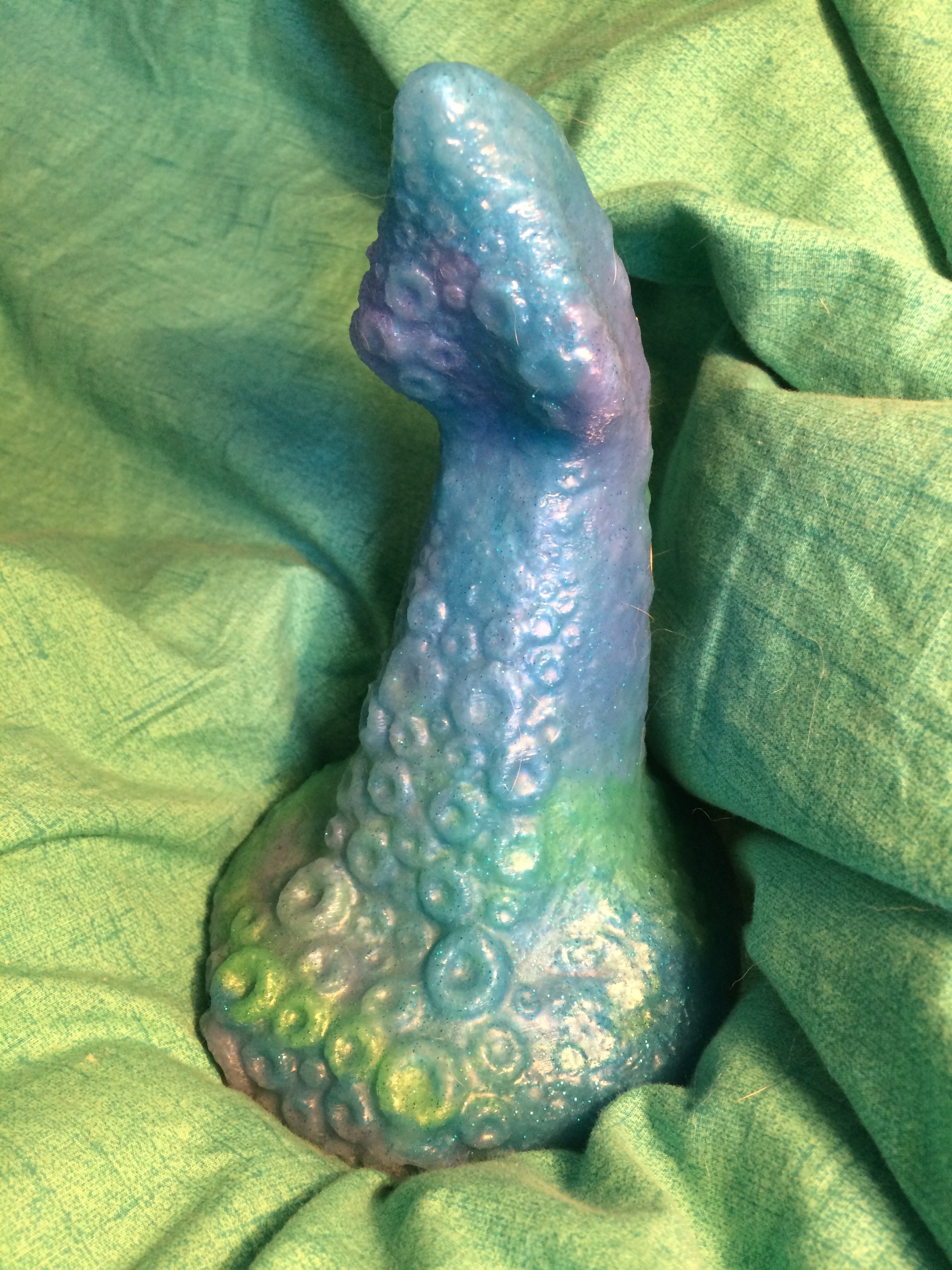 The advantage of the dual-density core not reaching the base, however, is that I am able to curl the Leviathan once it's inside of me in order to rub all of the tentacle suckers against my bits.  I can bend it in all different ways to meet different angles of my anatomy in order to stimulate my sensitive parts.  It's pretty electric for someone who doesn't normally use texture for clitoral stimulation.  (This is giving me a newfound curiosity towards
Funkit's Signet
project).   The suckers also make great sounds for folks into auditory stuffs, kind of like really yummy sex as each tentacle catches a bit of air and lube and flesh.  It's sort of a slurpy sex feeling I wasn't really expecting, so added bonus!  The suckers also work as little lube
trappers
, keeping the Leviathan from getting too slippery but somehow making it slick enough once the shaft is inside me.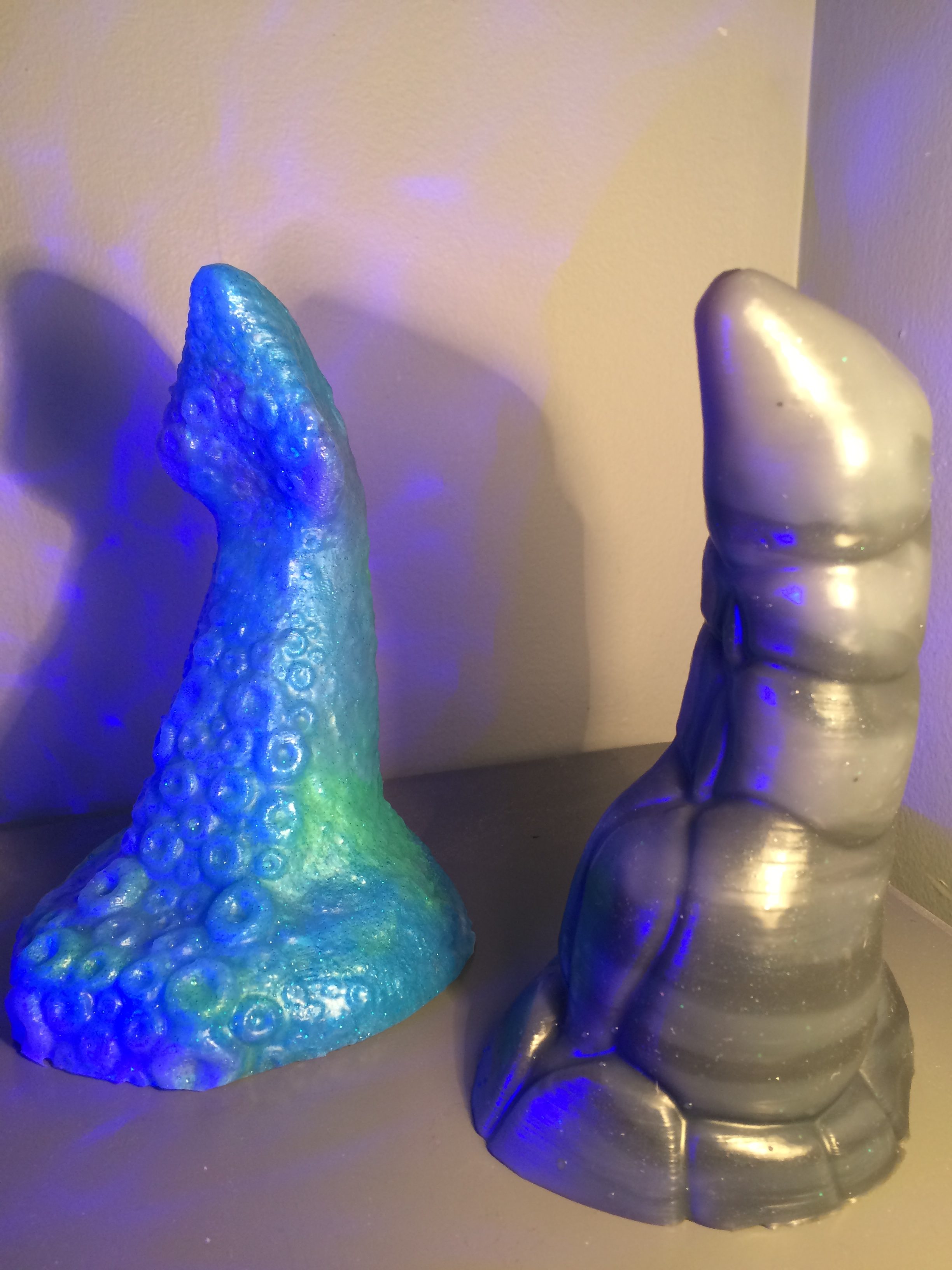 For science's sake, I used Phoenix Flame Forge's Monty the Manticore directly after The Leviathan to see what the difference in orgasms would be like.  While I had difficulty orgasming with The Leviathan because of penetration frustration, I noticed that the Monty's density was actually a bit firmer and Monty's pointy tip actually gave me great G-spot stimulation as it held form during thrusting.  Because of Monty's slickness and shape, however, it was even more difficult getting a grip once fully lubed.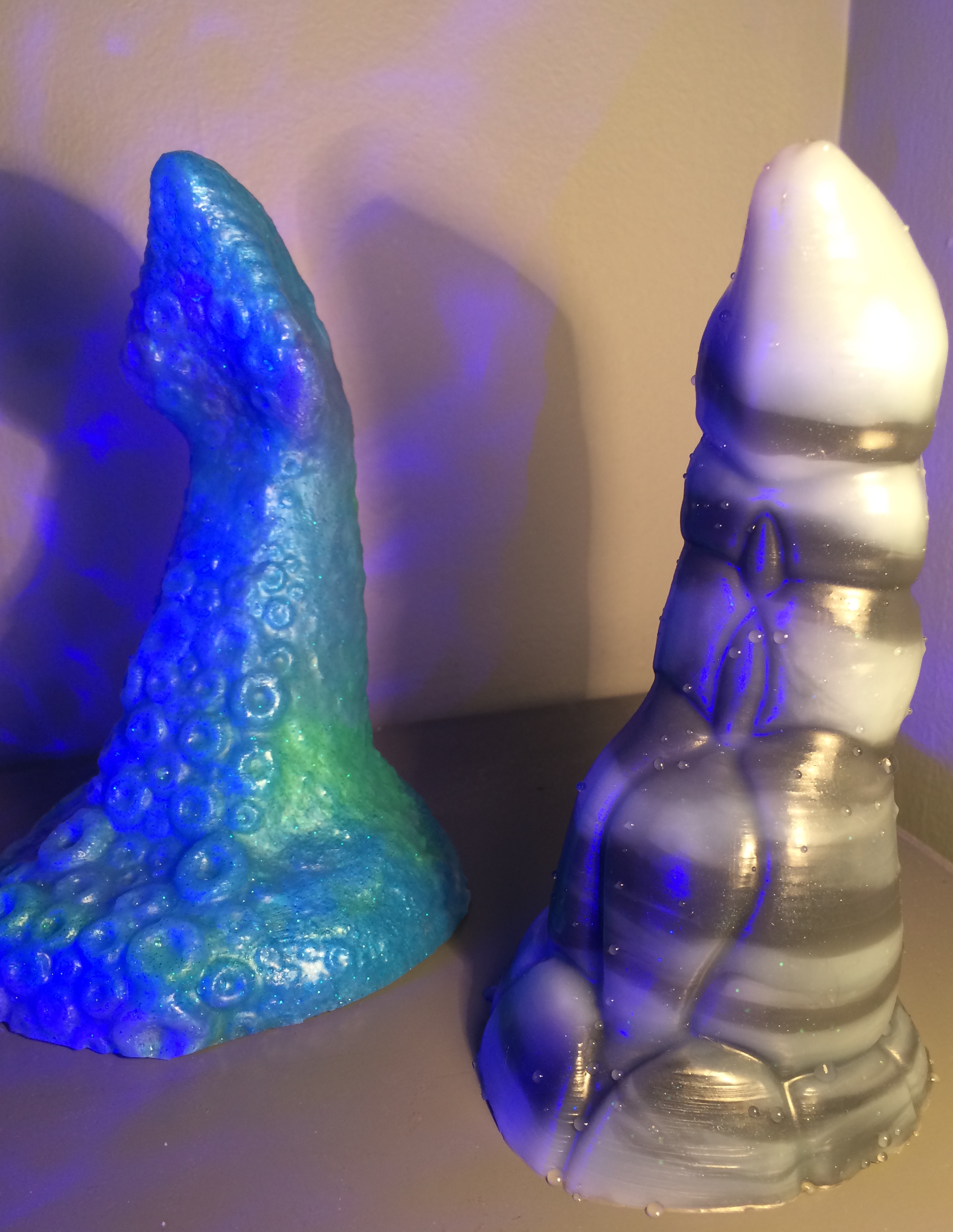 Whereas The Leviathan's flayed tip and bumpy texture kept it snug inside of me during orgasm spasms, the Monty went shooting out the moment I started pulsing.  Both toys have their pluses and minuses.  Overall, I continue to learn that I just really am not a fan of soft silicone, but given the beauty and now the rarity of The Leviathan and the incredible work Brandie does for Tails and Portholes, I am so proud to have this new addition in my home.