"Genderqueer/gendernonconforming/genderwhaaaaat kinkster with a penchant for academia, Pokemon, punk music, and rockhounding."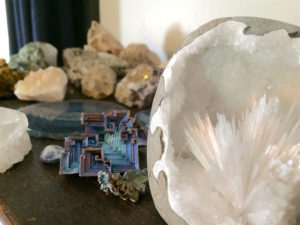 I collect rocks the way I collect sex toys.  They stimulate my mind, body, and soul.  The witchy side of me loves crystals and their corresponding significance (I wear tigereye, moonstone, and rose quartz rings whenever I go somewhere anxiety-triggering), and the science nerd in me loves their composure and geological properties.  True story: before I began my Women's/Gender/Sexuality Studies concentrations I was initially a geology major in undergrad.  When I ended up doing more ground surveying than streak testing, I knew it was time for a change.  Once I started taking more Women's and Gender Studies courses, including an amazing one on ecofeminism (imagine being eighteen and having this for a reading list…SO yummy), I knew this was my field.  I knew I'd be going to school forever for it, and that actually excited me.
This insatiable curiosity to gain a holistic and evolving comprehension of sex toys is the heartbeat of my larger practices in sex positive education and sex therapy.  I have been teaching sex education for 10 years with a grassroots 501(c)3 non-profit called The Masakhane Center in Newark, New Jersey.  I also have a Bachelors and Master's Degree in Gender and Sexuality, and am currently working my way up to a Phd in Human Sexuality.   Currently I am a counselor for Trans and Gender Non-Conforming individuals at The NJ Center for Sex Therapy in Chester, NJ.  This all has an aim towards becoming an AASECT (American Association of Sexuality Educators, Counselors, and Therapists) certified counselor.
Credentials aside, I eat, sleep, and breathe sex.  It is in every lens of my life, from leisure to love, from food to family, from movies to magick.  I was that little kid getting in trouble for teaching my friends about my sister's first period when I was six years old.  I was that teenager almost getting expelled for writing a Cosmopolitan-esque sex survey that got circulated all the way up to the headmistress.  I was the college kid who got a disappointed headshake from Campus Safety for streaking through the sprinklers at midnight.  And most recently, I am the grad school adult who almost got written up for volunteering as a demonstration bottom during a class presentation on needleplay when I was unaware that students were not allowed to be topless in academic buildings (even though I identify as trans* and having breasts does not make me feminine or female).
For all the wonderful positive doors sexuality has opened for me, it has also closed a few.  I would love to hear about some of your journeys traveling through your sexual trajectory.  ESPECIALLY if it relates to sex toys!  Those stories are extremely valuable.
Thanks for reading, and feel free to get in touch with me in the comments, via Twitter, Instagram, email, or IRC!
<3,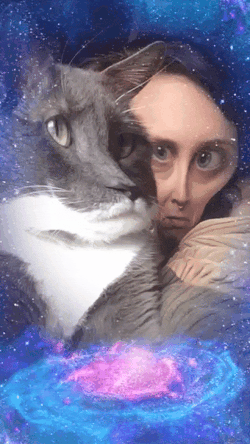 Avery (The Palimpsex)