When I was approached by Liberator to review their Black Label Esse Chaise, I was sort of mystified.  Like this blog post and even the Chaise itself, I didn't know where to start or how to react. I was excited, I was intimidated, I knew the possibilities would be beyond my imagination and I knew things were really up to me for direction and choice.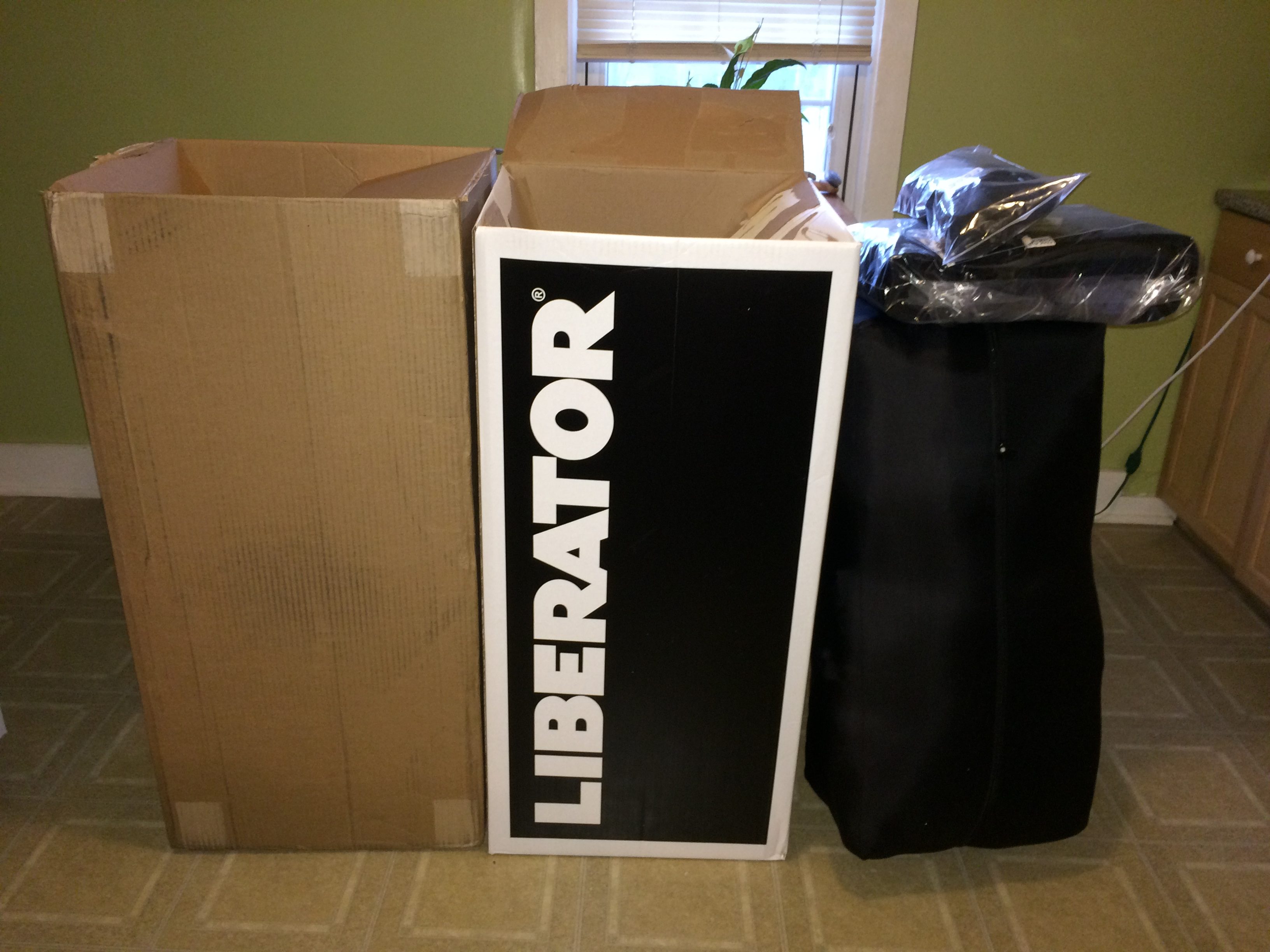 Now, I'm switchy in all aspects of my life: kink, academia, picking a place to eat…when it comes to fucking on a gorgeous piece of furniture or choosing how to write about it, the same principles apply. Do I take the cerebral road and wax poetic about how this item has led me to reconsider disability, particularly in my anxieties over using it? Do I just get straight into the meat of the review because I think readers would be more interested in the form and function of the chaise for their own personal considerations, particularly given the price-point of the toy and the decisions required to make such an investment? I really don't know.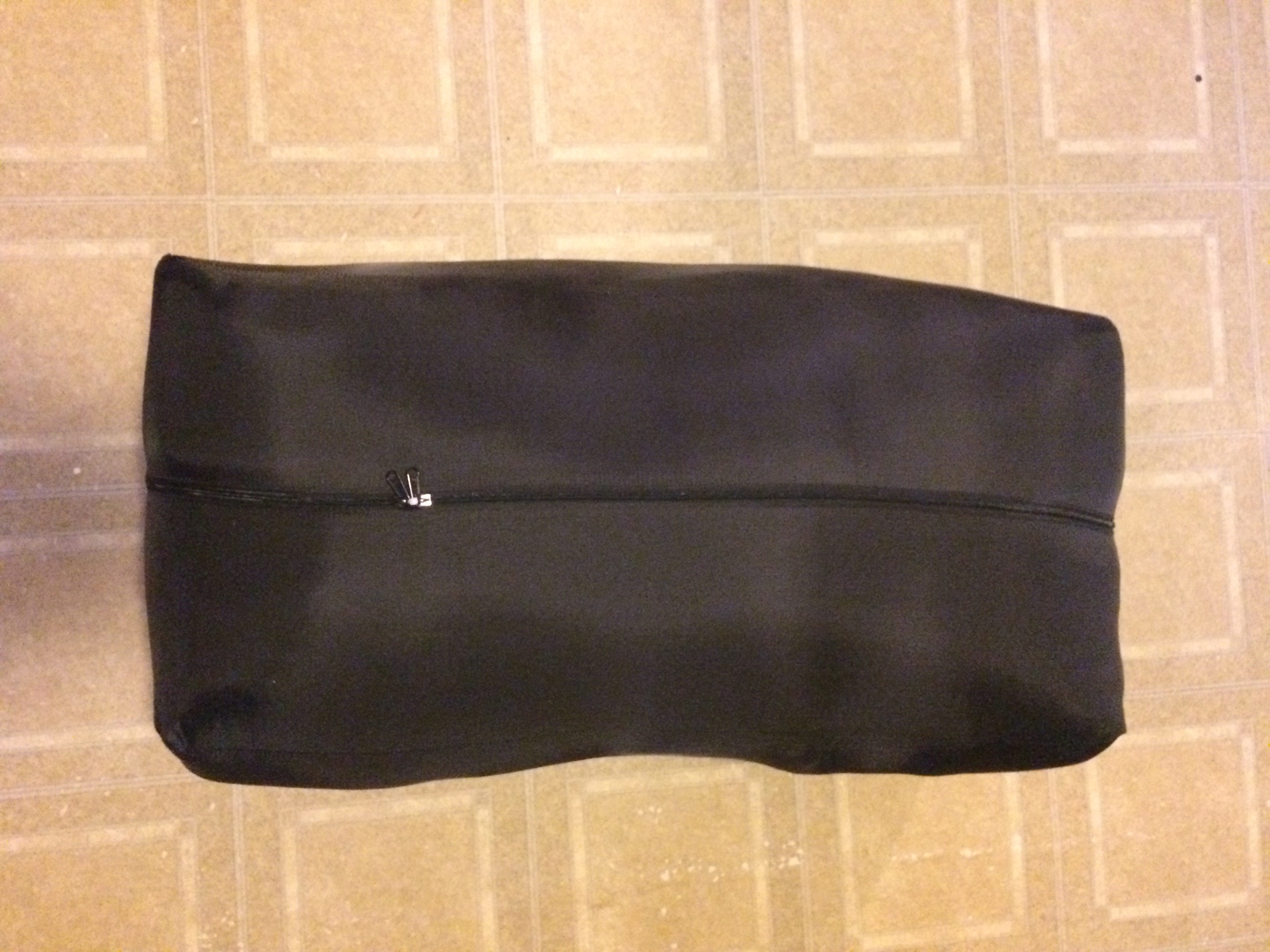 I know I could write a really lengthy post about the whole experience, and I've only really used the chaise for sex three times after having it for a month, but to be completely transparent, I'm contracted by Liberator to write this free review within 30 days, so time is somewhat a factor. Which plays into the first theme of my thoughts on disability. I've never reviewed something for a company before. Every review I've ever done has been without contract and that's sort of alienated me from the rest of the professional blogging community because I fear my work has less value.  I worry folks think I don't put as much care into what I do because I'm not getting paid for it. I'm still not getting paid here, but I'll be damned if I didn't get a massively gorgeous $600 furniture kit for the quality of my writing, so here goes: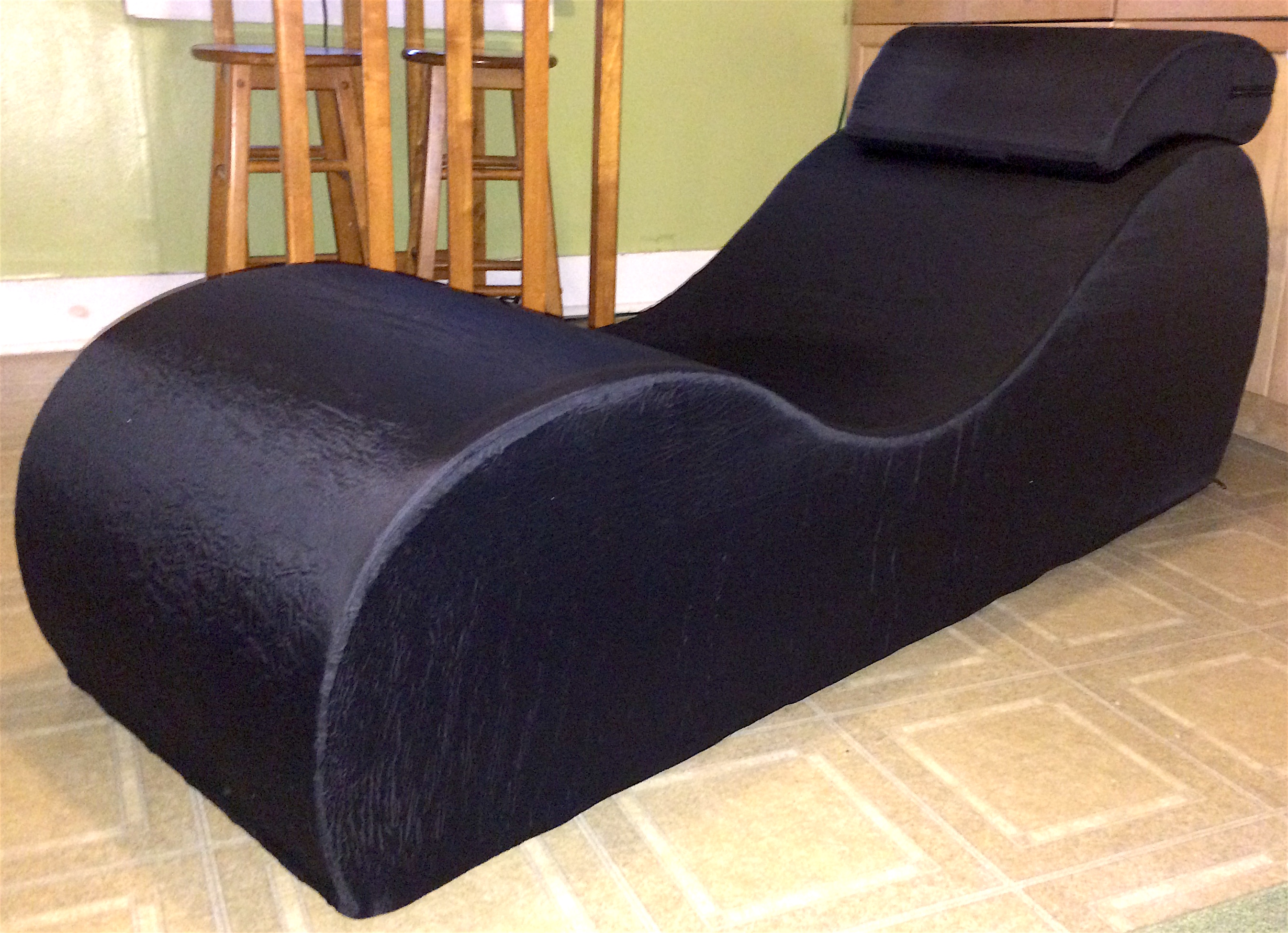 No, maybe I'm not a legit blogger. And that does do my head in a bit, mental healthwise. Seeing a contract for the first time certainly triggered some unexpected anxiety, and considering my primary partner and I don't have the most frequent sex, scheduling time between my stressful semester, my back, his job, and our sick kitty to try out the Chaise has been a little tricky. What I have discovered, though, is that this Chaise is great not only for physical disabilities, but has done wonders for our neurodivergences as well.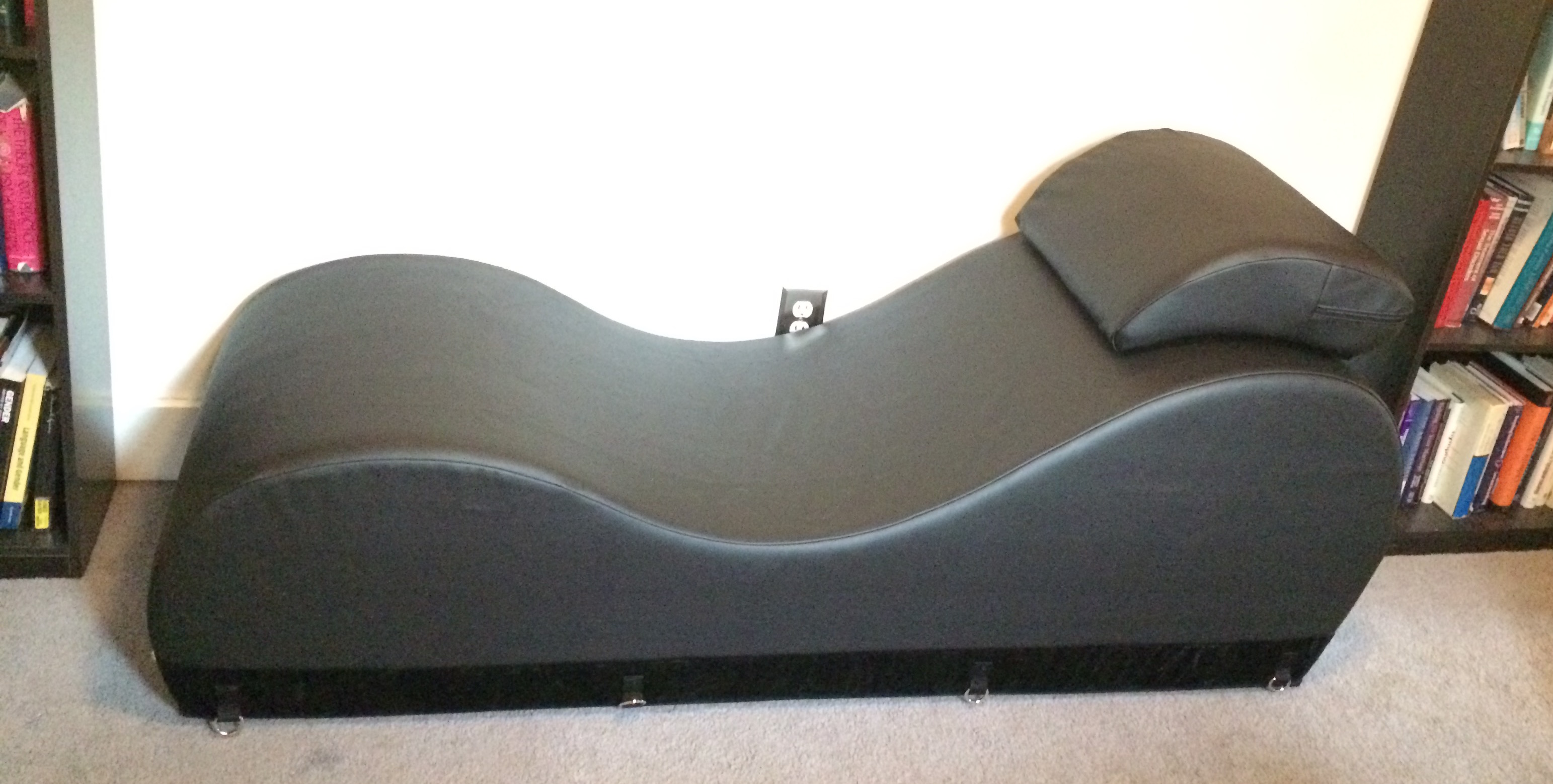 Being that it is so supportive, grippy where it needs to be, the texture of the faux leather cover, the strong D-rings on the bottom, and the angles of the curves, the Chaise is like a little mental vacation once we get onto it. It's like a really gentle inversion table at times, except I'm consenting to the bloodflow differential and I have all the fluff and back support I need. The headspace change happens almost the second I touch the Chaise. Just feeling the texture of faux leather in comparison with everything else in my apartment brings me a visceral awareness of my sexuality. It's not as though I've fetishized the Chaise (well maybe I have, a bit), but rather just something about it that fits so appropriately with my identity, physically and spiritually.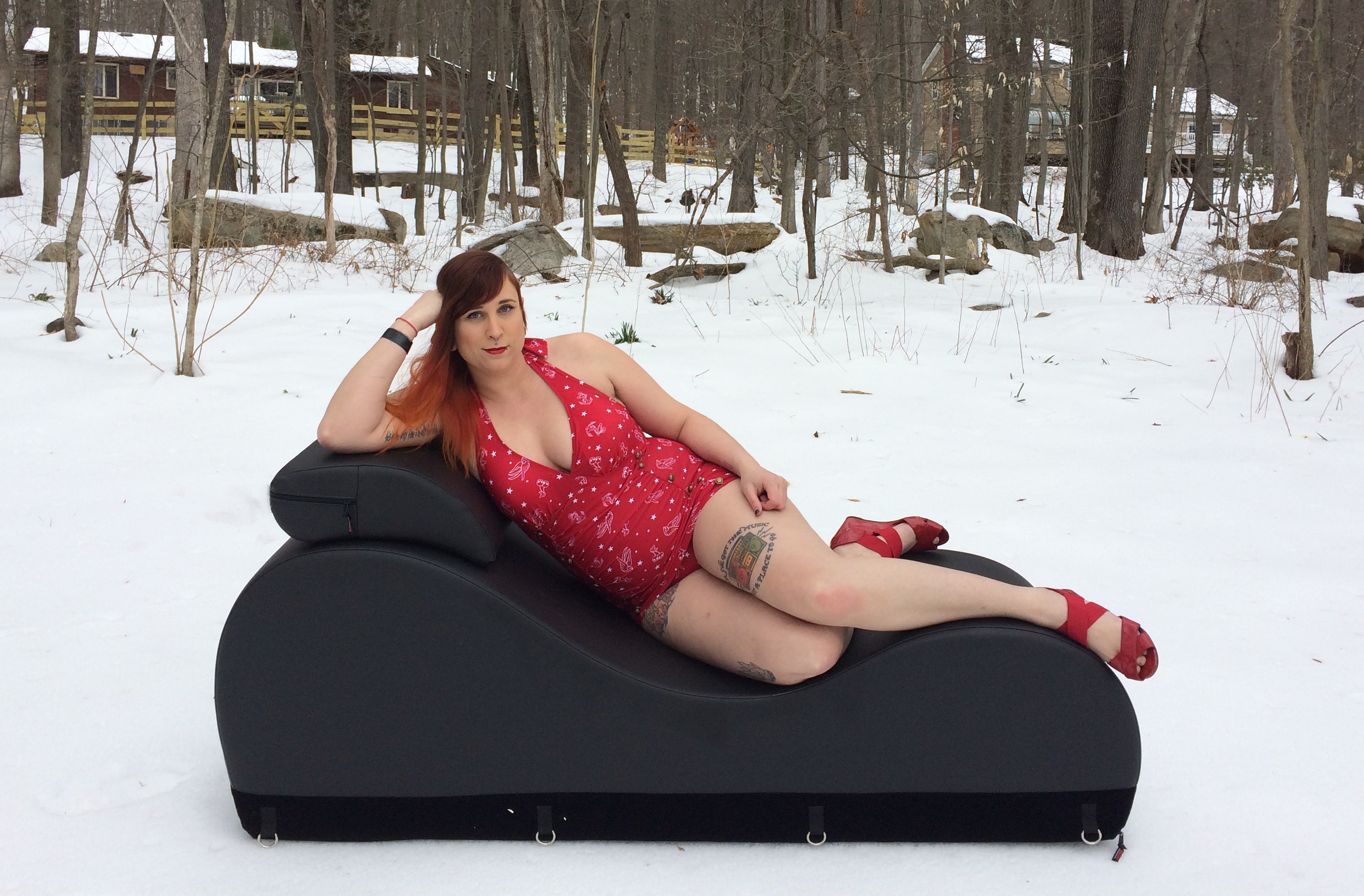 I thought it was just me who felt that way, as the first time I used it I masturbated alone while my partner was at work. I worked myself into what felt like ten different positions with my Hitachi. I rarely orgasm that many times from a Hitachi; it's usually one or two and I'm over-sensitized and blissed out, but something about the Chaise had this organically coaching feeling telling me that I could keep going if I wanted to, and I did. It didn't cradle me like a bed. It was comfortable, but I didn't want to just sprawl out and nod off into a sweaty mess like I usually do. I felt a weird out of body experience as the sun shone through the snake tank and onto my beating chest, like I was on display…for myself. It was really erotic and very confidence-building.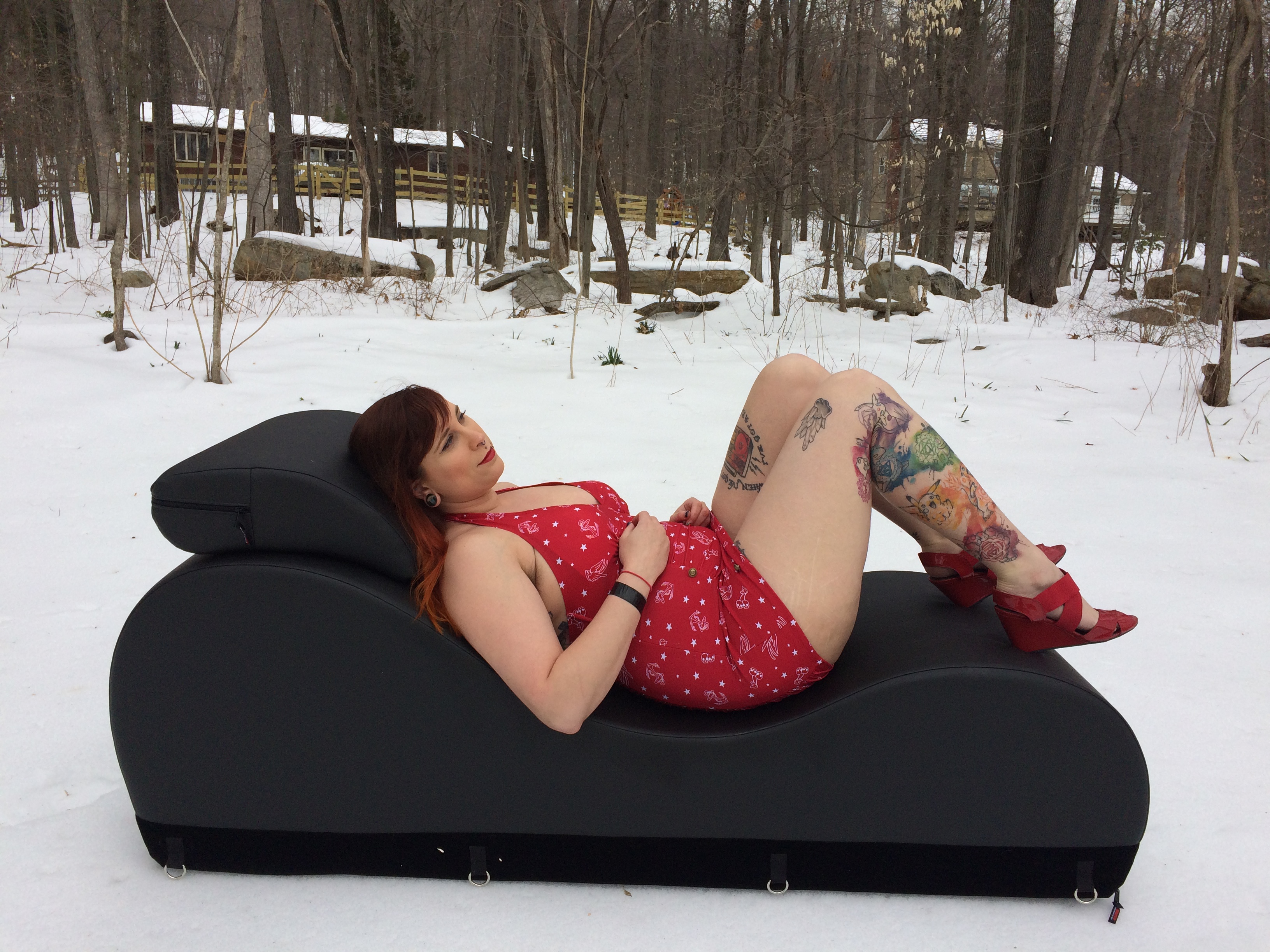 My partner had a similar experience when he used it on his own and felt really sexy afterwards, describing an energized state and attributing it to the position he was in, back rested against the higher slope and one foot on each side, toes dug into the carpet. He said that because of this, it didn't strain him or tire him, but it also didn't feel like a sleepy wank either, where he usually wants to sink back into bed afterwards.
The angles of the Chaise make it very easy to get out of, even if I've got my head at the lower slope and my ass at the highest slope, all I need to do is move one leg with gravity and I've got a firm plant on the floor. There is no "turtling" required, which I usually need to do to get off of my back once I've been in a sunken bed for a while. The Chaise is firm and supportive, but not stiff, so it holds both my 200 pound body and my partner's 130 pound body in many different positions. I could be on my knees with this thing and it will barely make a dent. The Chaise really is a solid piece of material.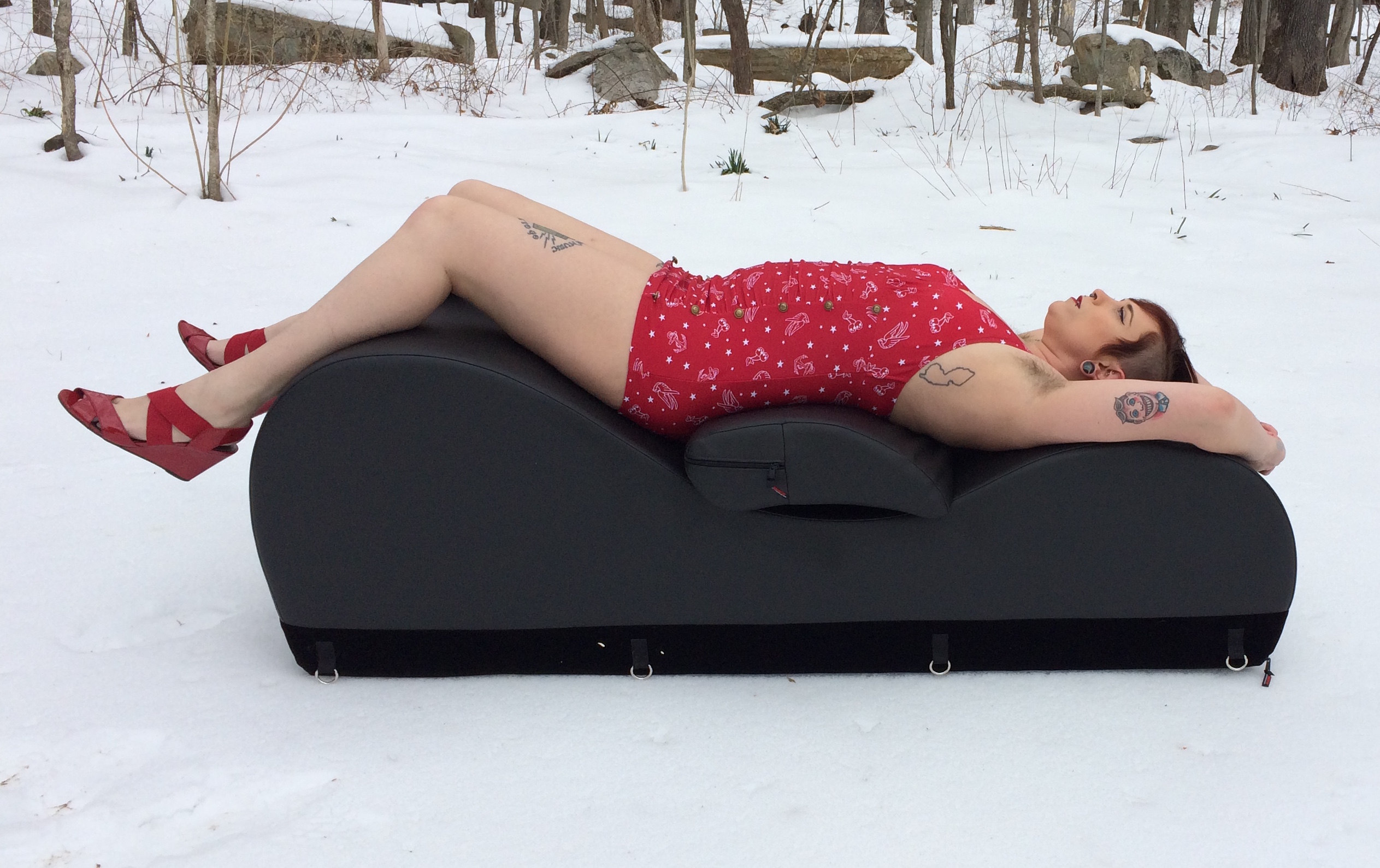 So the day finally came when my partner and I got to use it together. And it was funny, because we were both just casually showing each other how we each masturbated on it, but watching each other do that was so arousing that a full session evolved from there. Everything felt so good! I was amazed at how easy it was to be on top again, with him lying down and my legs on either side of the Chaise. It was the perfect height, and the dip in the middle gave him a great space for thrusting while I could use my legs to lift myself up and down off of him, plus the slope behind his head was great to grab onto for additional support.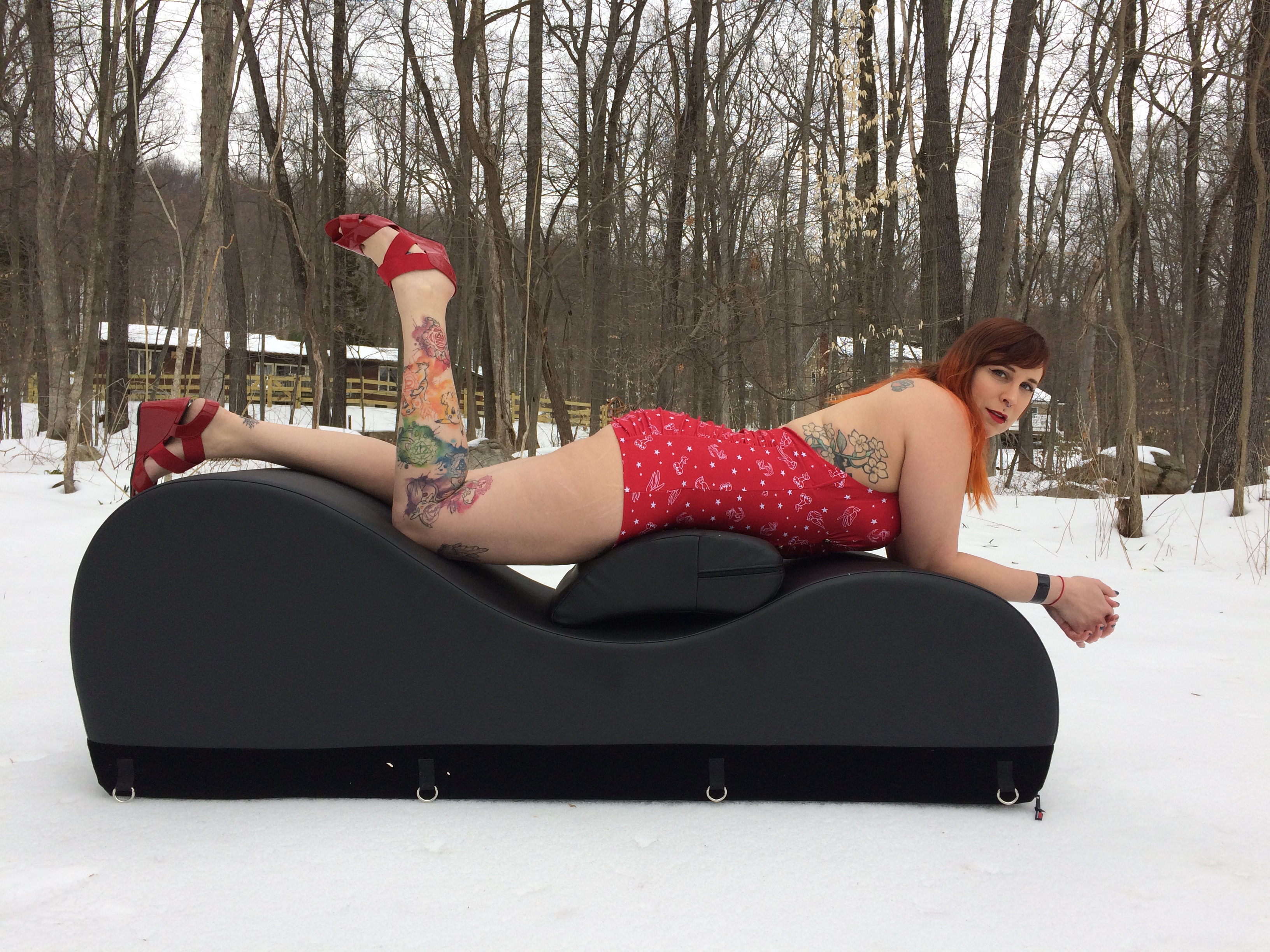 I don't think sex with me on top has ever been that easy in my entire life. The other position that blew us away because we never get to do it was doggy style. Normally, even off the edge of the bed, doggy style is extremely tiring on his legs, and I can never arch my back properly without it hurting my discs or triggering my sciatica. This has been so disappointing for us as doggy style was always my favorite position, and I used to be able to arch my back to work my G-spot really well. By positioning me in the dip of the chaise with him at the top of the lowest slope, he was able to use physics of all things, the gravity of the cushioning to help spring him back up each time he came down from behind. I'm not sure how much sense that makes, but if I'm laid out, hugging the higher slope with my legs spread, and he's on the other slope with his legs together, he was able to get a really great entry angle for a virtually inexhaustible doggy style that left both of us very satisfied at the end.
Something I find equally valuable about the Chaise is the many usages for it. Currently it sits in our pet room between two bookcases. I keep discovering new things every day for this lounger. Just this week I needed to flip through about 20 books on sex therapy for a paper, and instead of kneeling on the floor, I luxuriously flopped over the chaise to read Jessica Benjamin's The Bonds of Love. (Paging Dr. Freud!) My partner loves to steal the grippy pillow that comes with the chaise, as it has all these little nubbins on the back and looks identical to one of those medical lumbar pillows you put on a computer chair…which is exactly what he uses it for. We both love using the chaise as our viewing couch when we feed our snake, Princess Buttercup.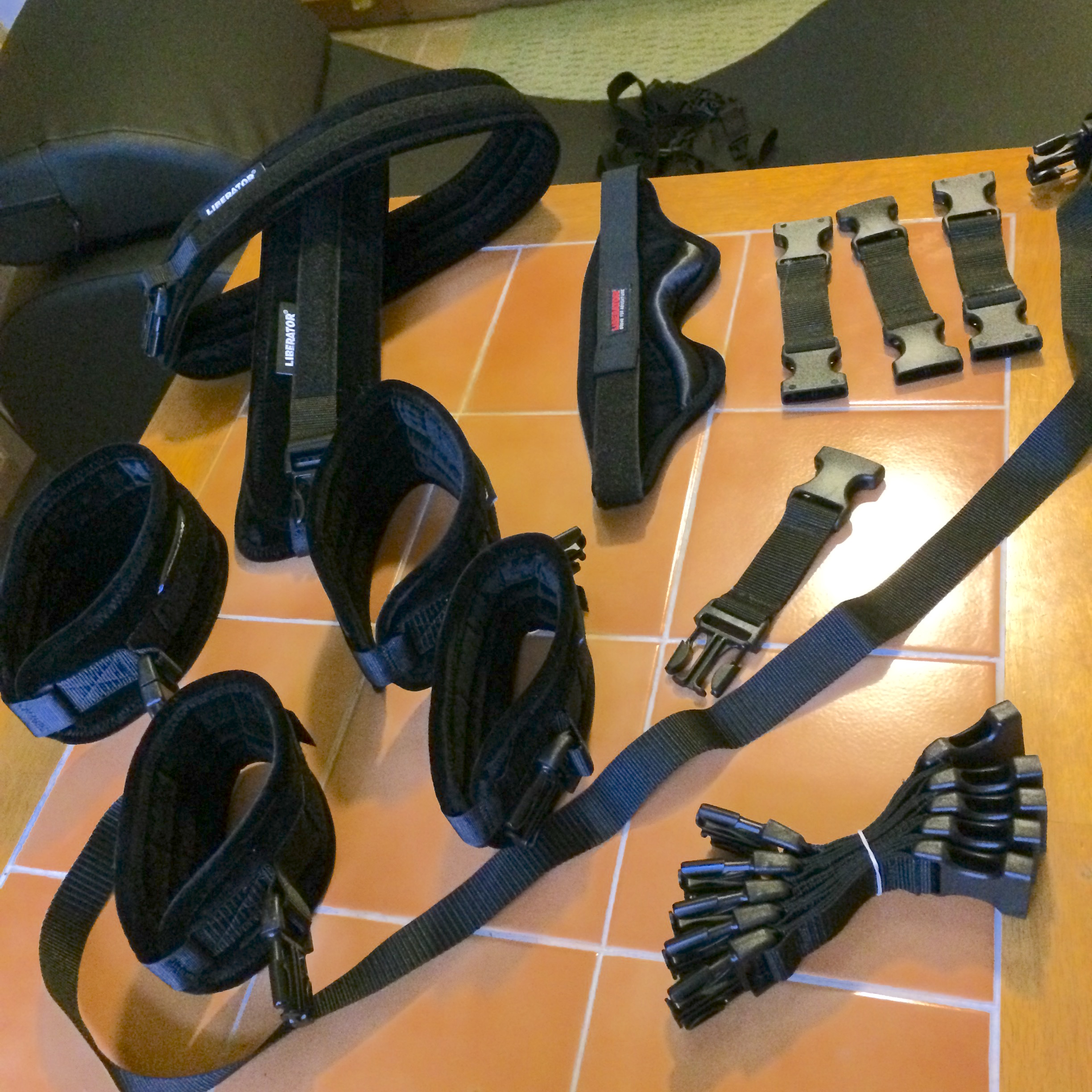 I should also mention that the D rings at the base of the Chaise have a distinctly kinky function for bondage, and Liberator was kind enough to send us a pack of their modular ankle and wrist cuffs, but for some reason we were unable to thread them through the D rings. The clips and straps were too thick to fit through, and to be completely honest, were a bit too complicated for our liking. The blindfold was fantastic, though! It even had a little lip of padding at the bottom for cheek comfort and kept me from being able to peek out the bottom (also great for multi-purpose, as my partner uses this blindfold to block out my laptop light when I'm up late nights in bed).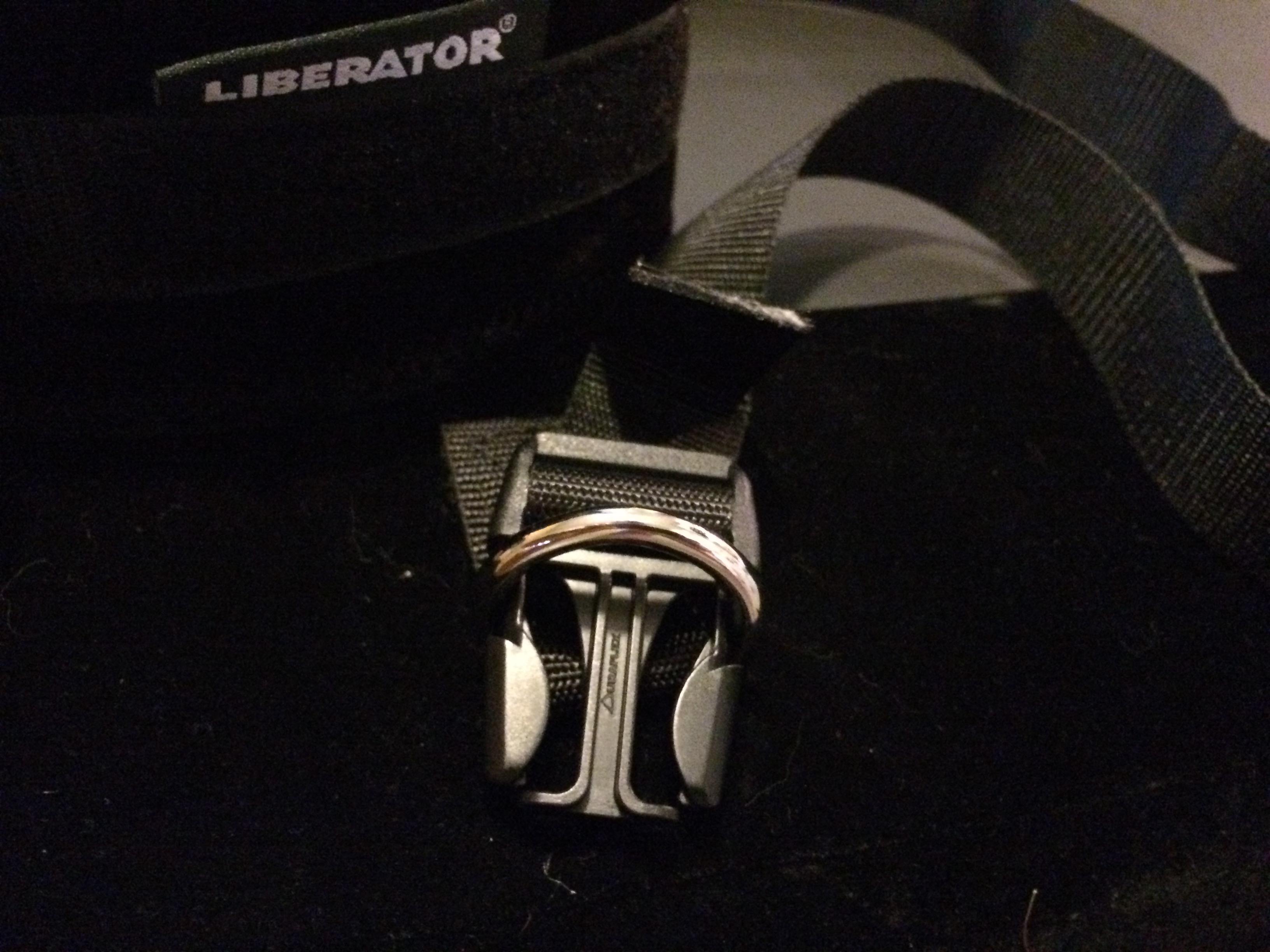 We do like the D rings because they are sturdy as hell. They make lifting and moving the Chaise so easy, and for someone with a bad back, this is so crucial. Lifting by the D rings gives us a great grip on the thing and we have no fear of the cover ripping at all. They're actually part of the removable cover, as the Chaise has two covers which are simple to take off, and as with any Liberator product, totally washable. Though to be honest, given the smoothness of the faux leather, I think a simple spot treatment should do. Overall I am so impressed with this massive product and would highly recommend the Black Label Esse Chaise for anyone who has the space for it!