Confession: I have been procrastinating on my culminating paper of the semester for a month now. I was graciously given three extensions on the thing and I still would rather write here than punch out the last two pages of it. Once it's done, my semester is over, but here I am, delaying my release from academia by crafting a review. It makes me wonder whether this is really procrastination or academic edgeplay. /endrant
Once upon a time (yes, I am going to be that blogger), a much more social (but still awkward) Avery used to frequent the New York kink scene on a monthly basis, the favorite of which was an awesome event called Myth. Myth is a super inclusive and sex positive kink event that has had brilliant incarnations: outdoors retreats, sexy dungeons, even Webster Hall! Myth has collaborated with amazing artists and had creative themes such as Star Trek and My Little Pony: Friendship is Magic. Myth was the only event in NYC where I felt comfortable being a gender non-conforming Creeper (literal Creeper, as in Minecraft cosplay).  Actual creeping may have ensued, always with consent.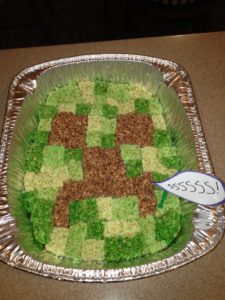 Myth was also the first introduction I had to New York Toy Collective's wonderful products. I distinctly remember shyly shuffling up to the NYTC table and being greeted enthusiastically with candy. I remember squishing their Love Bumps and marveling at the optional hole for a bullet vibe.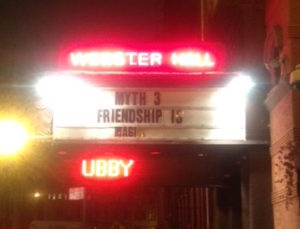 Most of all, I remember the first time I saw a Shilo, thinking "There is no way that is an actual functioning pack-and-play. Truly functional pack-and-plays don't exist, and I'm not going to risk $150 on wishful thinking that it might really work."
I figured yeah, it's posable, but how long can it possibly hold its shape? Sure, it's squishy but will it actually withstand repeated boiling? Can I actually fuck with this thing? Answers: 1.) forever, 2.) yes, and 3.) oh my god YES. For four years I drooled over the beaming blog reviews of the Shilo before I finally came to my senses and bought one at Kink Shoppe last fall. Blue and pink tye-dye, no less. (How's THAT for genderfuckery?)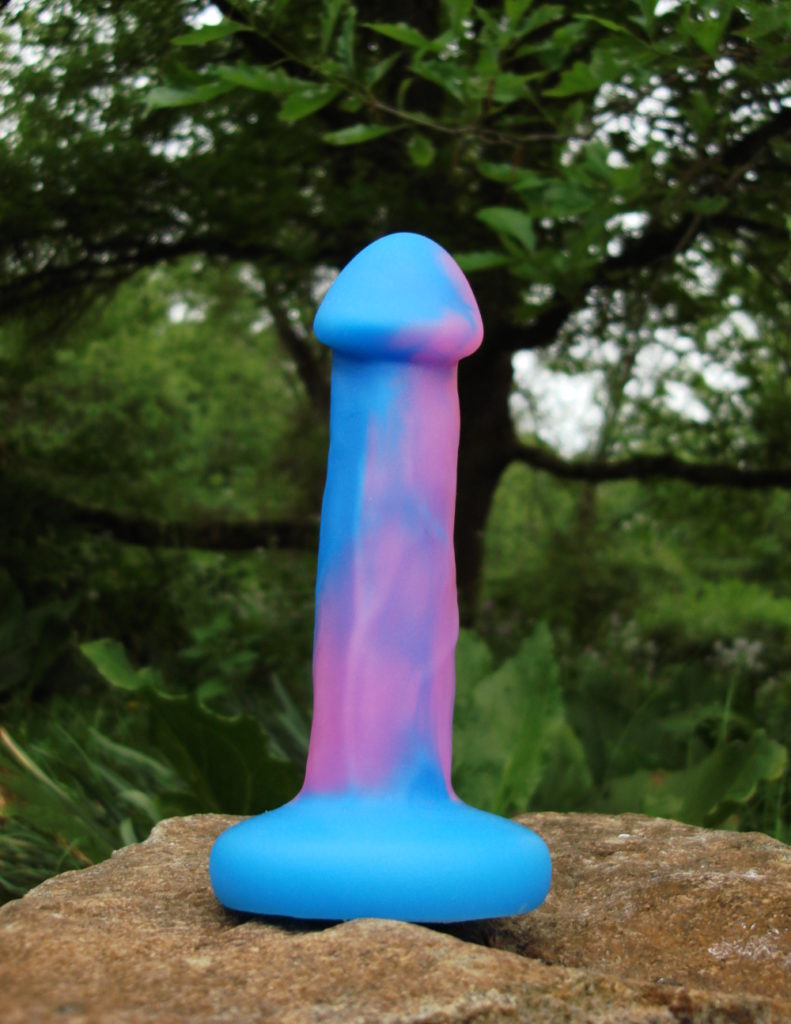 My years of packing with a Cyberskin Mr. Limpy were over. No more cornstarch dustings and flaccid blowjobs (although it was admittedly arousing to watch my partner tongue my balls). No more clumsily switching to a dildo when I'm ready to have sex. I also love that the Shilo gives me significant bulge, as it doesn't bend sharply down during packing…it makes more of a "J" shape sticking out from my pubic bone. When my partners grab my junk, they can feel how hard I am. My favorite thing about the Shilo is how nicely it fits through the hole of my boxer briefs when I fuck. I don't need a harness, though for more vigorous penetration I could certainly use one.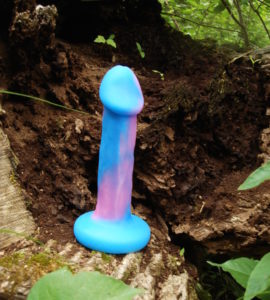 The Shilo makes packing so much easier. I don't even use a packing strap, though again, I could if I wanted to. The ease of use makes it feel that much more a part of me. Even the color, though not skin toned, feels more organic to my sexual being. When I fuck it, the cushy silicone feels incredibly real and the head has just enough pronunciation to stimulate my g-spot (it's also a mindfuck to have sex with my own dick).  And when I fuck with it, I can feel it slide in and out of my partners. ::heavy breathing:: ANYWAY, the Shilo and everything it represents to my identity in terms of body safety, functionality, appearance, and accessibility has earned it the first review in my blog.  I tried using it for pegging recently with limited success… one of my partners said that despite the softness of the silicone, the Shilo's head is just too big in comparison to the shaft, and once fully inserted, their tight butthole tensed so much that they didn't notice the softness anymore.  They are nudging me as I type this, insisting that they would still like to have one more go at it, so I will keep you updated.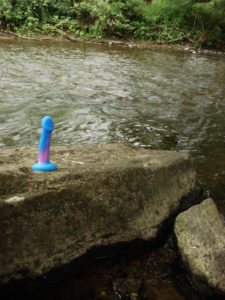 My partner and I decided go to on a little hike today and I couldn't resist getting nature shots of my Shilo (Action Packer, ENGAGE!). A fisherman totally walked by us photographing it in a stream and while I briefly scrambled to put it away, I thought to myself "You know what? Even if he saw what this was, I am so fucking proud of my packer." So there you have it..my love for the Shilo: a pack-and-play so awesome that I'd show it to an anonymous fisherman (again, with consent).