Ever since I got to poke my friend's cephalapod (yes I know that might sound strange on any other blog), I knew I wanted a Damn Average toy of my own. Their range of density in silicone is impressive, from super soft to hard, and their comparisons to gummy candy and erect tissue are spot on. I also love that Sheep, the creator, has synesthesia, because it manifests beautifully in each toy's color, shape, and texture. Damn Average even has squishy grab bags and silicone stress relievers in all sorts of cool shapes, and as somebody who is really into fidgets and slimes, I'll definitely be buying one with my next purchase.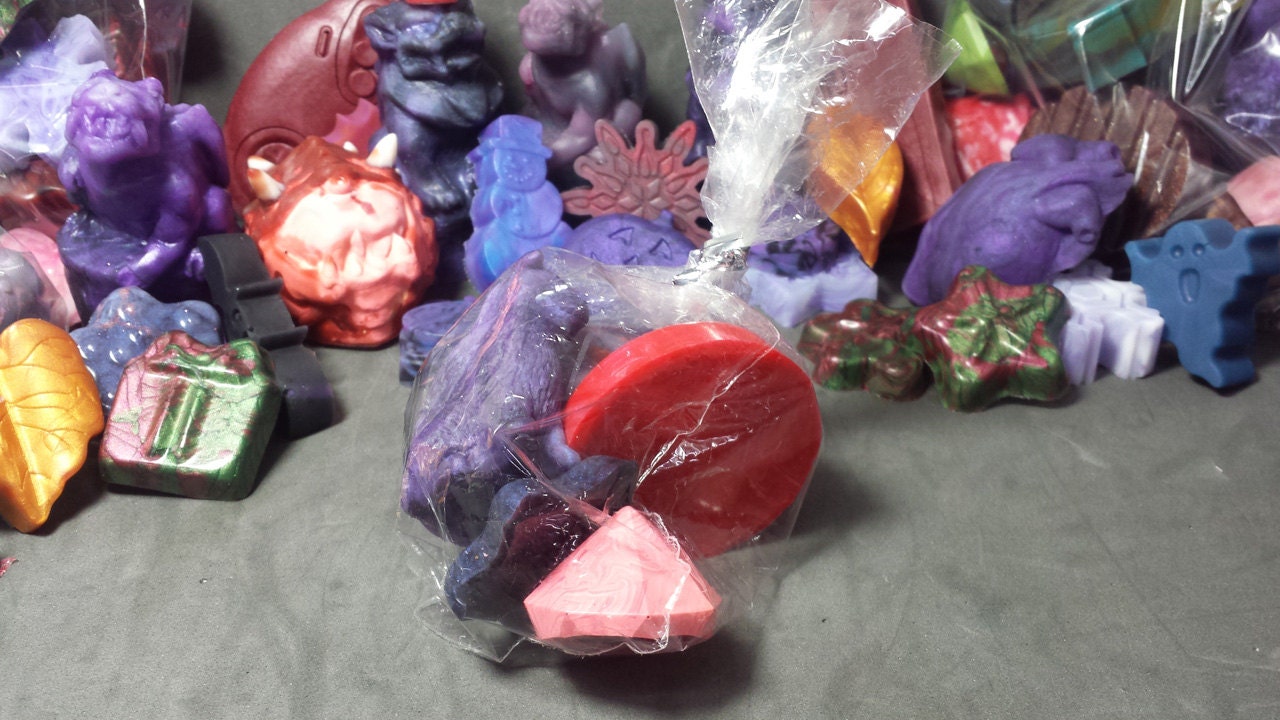 Valentime's Day came and went, and as per usual I did nothing special to celebrate. I usually scourge the shelves of CVS or hit up the Lindt store's 100 truffles for $30 sale for post-Valentine discounts, but this time I saw a very different discounted chocolate pop up on my Twitter feed. Damn Average was holding a Discount Chocolate Day, with an assortment of amazingly shaped toys all in beautifully marbled colors from mint to shimmered pinks and reds, all blended with rich brown tones to give a chocolatey effect. Talk about synesthesia, the color pours were enough to make my mouth water, and not in one of those cheesy "this sex toy is better than chocolate" type ways. Like, these things actually looked good enough to sink my teeth into. And knowing the gummy consistency of them, unf…
Looking for Indiana Jones butt plug references to describe my partner's quest and, lo, this image exists on the internet. @CrystalDToys pic.twitter.com/P370qeEHc0

— Avery (@ThePalimpsex) March 8, 2017
I immediately sent the Etsy page to my partner, since he been on a quest for the perfect butt toy and I knew there would absolutely be something on here to fit his parameters. Nothing pokey. Nothing too firm. Nothing too curved. Not too big or too small. My partner has the Goldilocks of buttholes. He wants something he can "go to town with." After feeling DA's super soft density in their cephalopod and seeing the shapes and girths on their website, I knew my partner was going to be like a me in a candy shop. It was tough narrowing it down, but we settled on the soft Lumpy, a semi-phallic dildo with a bit of a glans and several cascading bulges reaching a flared base with a tiny nub for additional stimulation (or grip).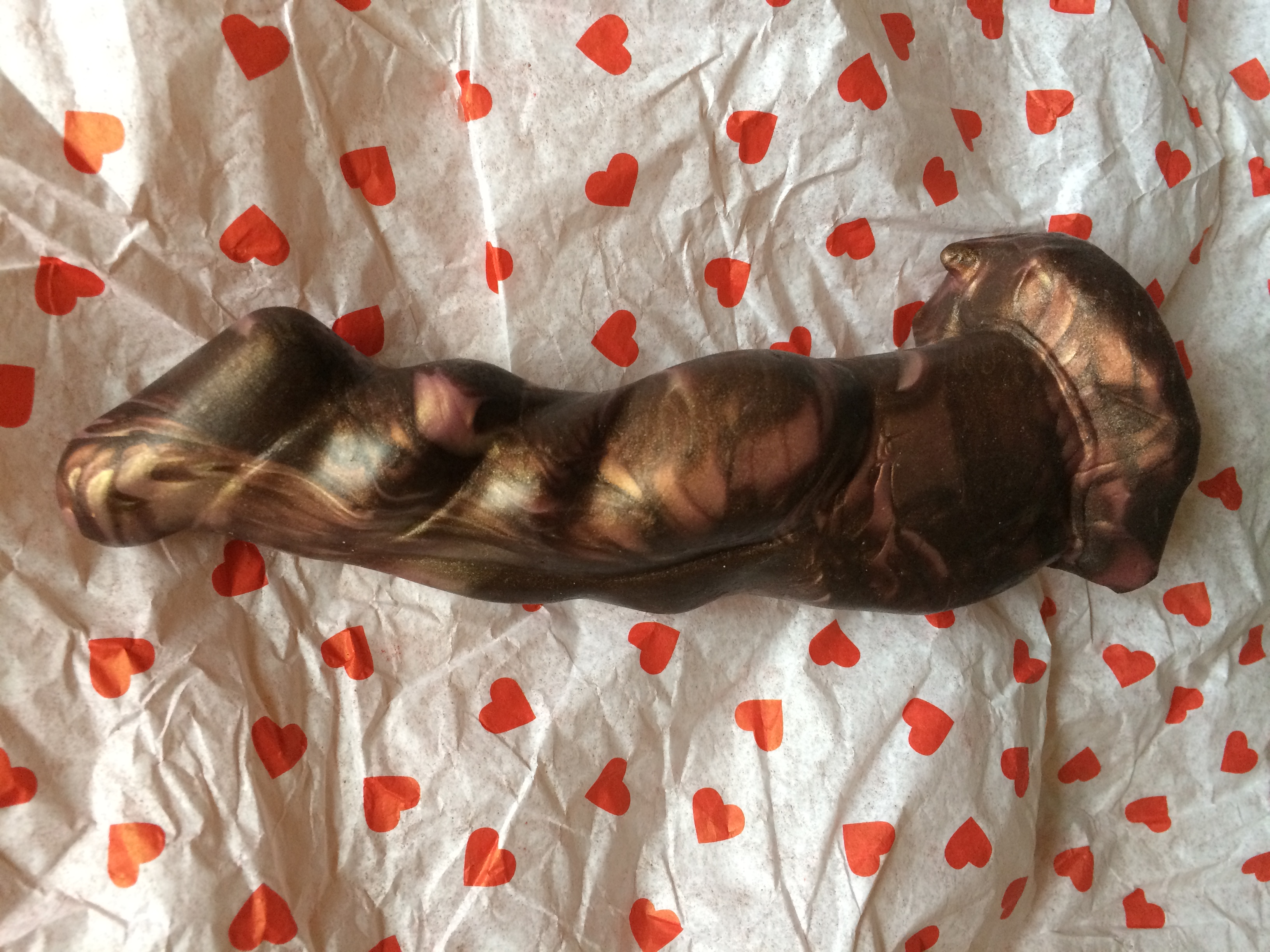 We took one look at this thing and both agreed it needed to be in our butts. A mutual butt toy. The marbling on it looked gorgeous in pictures, described as a pink-gold shimmer but actually appearing very peachy in person. Something about the Lumpy (or "Lumpy Little Fucker, the Devil" as it was originally named by Damn Average), just says "I resemble a dick, a turd, and a delicious piece of chocolate, please put me in your bum ASAP." Everything about it looks like it's going to feel amazing, and it translates beautifully into action.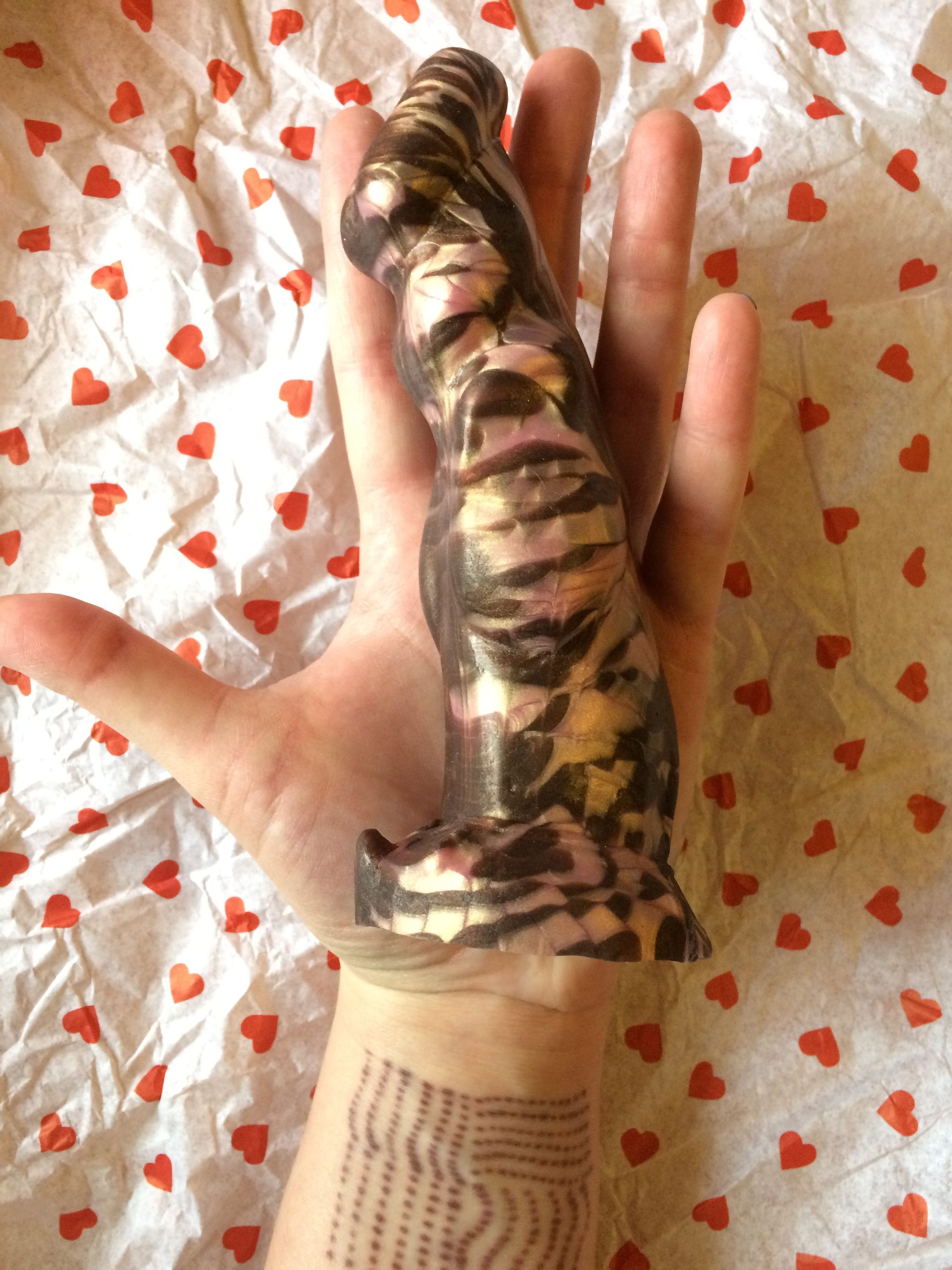 When I received the Lumpy, it was already wrapped in heart-printed tissue paper, an adorable touch, and I've never seen my partner so eager to use a toy right away. Usually it takes a few days before one of us uses a toy, but when I went to work that night, I came home to see the Lumpy freshly boiled on the dish rack. Without even asking, my partner went right into it: "It's perfect! I can bend it in any direction, I can fit my whole hand around it, I was ramming it as hard as I could and it felt so good! I almost came without jerking off; I've never done that before!" Clearly, it was my turn.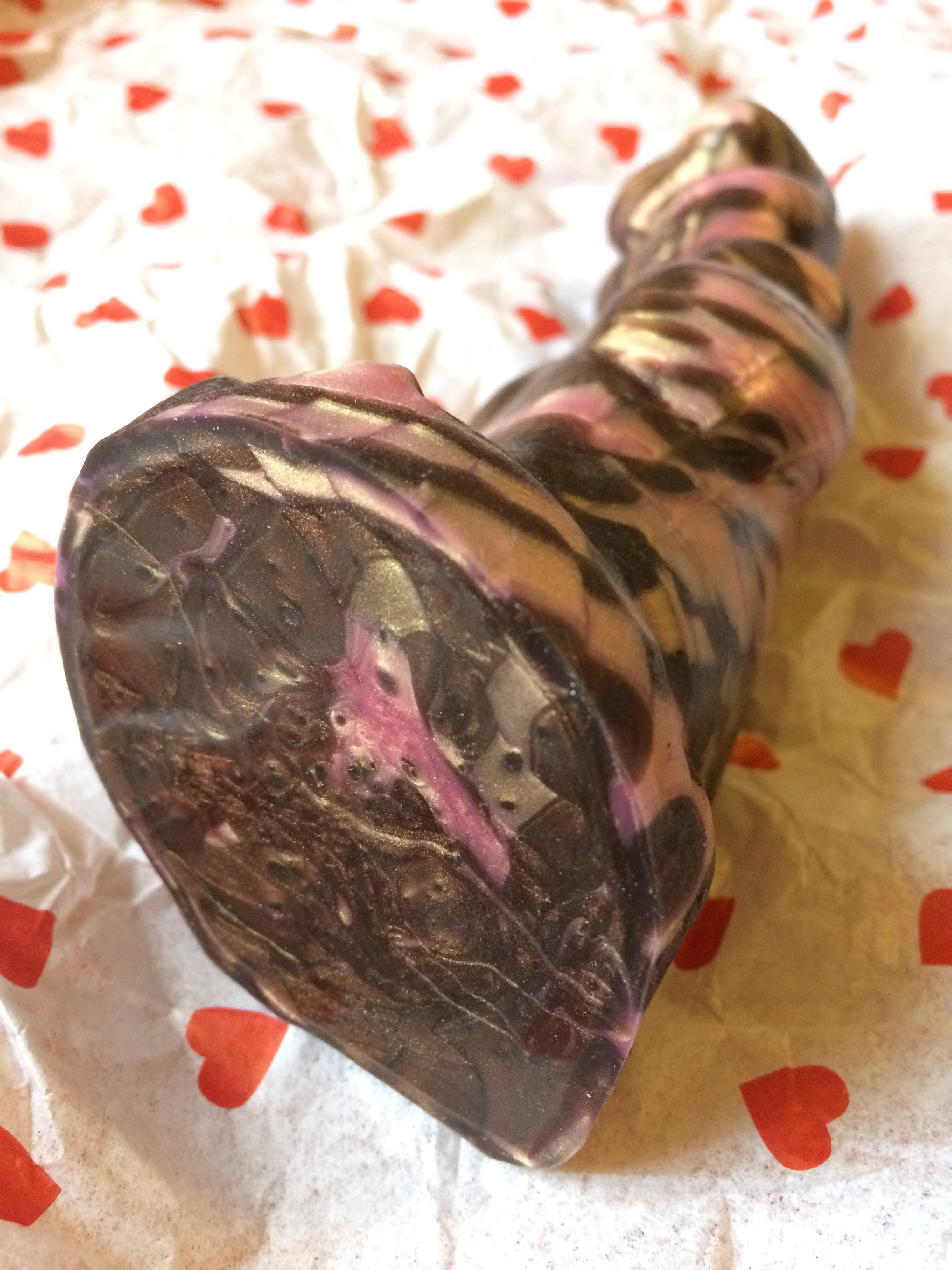 I wish I could say the Lumpy also had these life-changing experiences for me, but I'm honestly so happy that my partner has finally found his "go-to" anal toy. The Lumpy is still great, don't get me wrong. But for me, the softness makes insertion a little tricky. I say a little and not a lot because the angle of the tip definitely helps for the initial point of entry, and the length of the Lumpy lets me pinch the shaft and guide it in. It sort of reminds me when I'm being anally penetrated by my partner when he's like 90% erect. The other thing that surprised me about the Lumpy was my inability to get past the final bulge. I could not for the life of me get it completely in, which was all I really wanted. No matter how many times I orgasmed (and I think I came about 5 times with the Lumpy…it's still a great feeling toy!) I couldn't stretch enough to accommodate that last bump.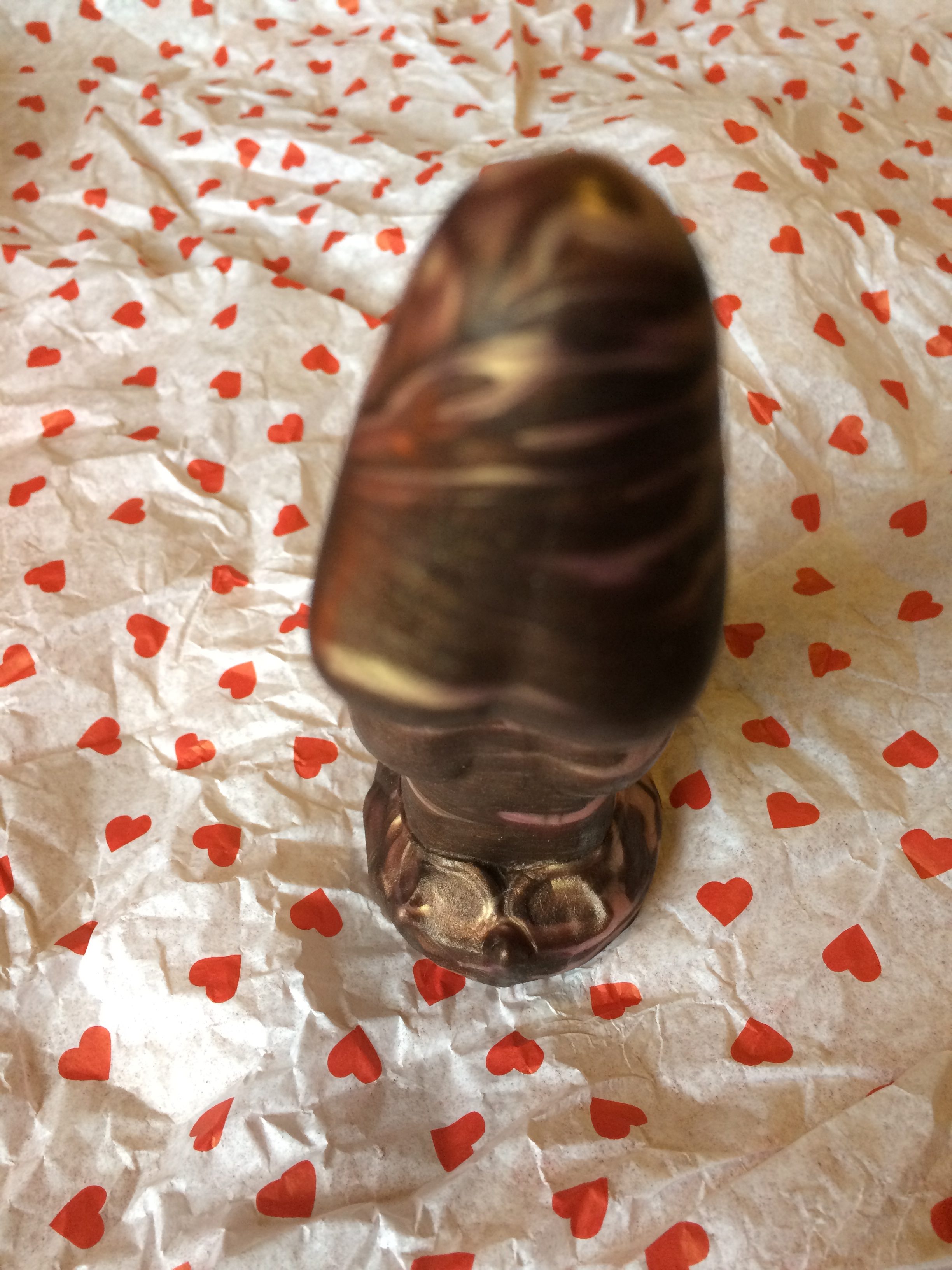 Comparing the Lumpy to some of my other dildos I've used anally, the girth is no thicker than the head of my Shilo and similar in softness. So I grabbed the Shilo and was able to insert it quite easily on my first try. What I've come to realize about my preference in dildos is that, while in theory I like the idea of a softer density, in practice they do not offer the thrusting power or insertion pressure I enjoy with firmer toys. They are more difficult to grip and tend to bend in all different directions, and they squeeze to fit my insides instead of pushing against them. While this is great for an anal toy that is meant to comfortably stay in place, for example the Bingo, for a toy I am trying to actively feel, not so much.
It all clicked when I started using the Shilo directly after the Lumpy and appreciated the Shilo's firm, wide base as well as its dual-density core, which supported more rigorous use. But this is absolutely a case of different strokes for different folks, as my partner dislikes the pressure of firmer silicone and really enjoys the bendy aspects of squishy silicone. One other issue worth mentioning with soft silicone, which we hadn't experienced until now, was the odor-trapping experience. I had read about it in Lilly's post, where softer silicone can be more likely to bond with butt smells. Our Bingo, Shilo, and Crista hadn't picked anything up yet, but after just two uses, Lumpy had begun to get a bit…pungent.
We are big fans of coconut oil, so I was hoping this would prevent the toy from picking up any smells, but unfortunately even after boiling the toy (actually, especially after boiling…it was particularly stinky when it got warm) the Lumpy still retained a smell mimicking its very shape and color. The odor got stronger if we bent the tip of the head to the left or the right, stretching the silicone a bit. Bleach didn't help, but some of the smell came out after soaking Lumpy overnight in giant container of white vinegar. There are still faint traces of Anus, but since a.) we know the thing is sterilized and b.) it's going to remain a butt toy, we're not too worried about it as long as we don't hold our noses right up to it. It does give me yet another reason to buy a Lumpy of my own in a harder firmness, though. Marbled March has begun and it looks like Sheep and I both share a birth month…perhaps I may treat myself to a toy or two…